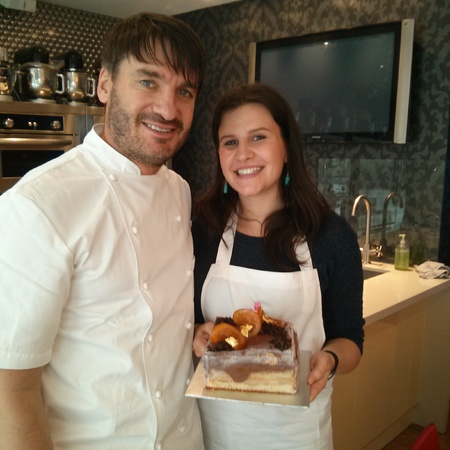 Handbag spent a few hours in the company of the wonderful
Eric Lanlard
to whip up some tasty
Carte Noire Instinct
coffee-infused treats recently, and we even walked away with our very own gateaux. Our version looked a little, errmm, worse for wear, but
here's the recipe
if you want to give it a try.
Eric also showed us how to make tasty
soufflés
and this pretty incredible looking
coffee and cinnamon mille feuille
.
If you'd like to improve your baking skills, try one of Eric's master-classes or take a look at his simple top tips below...
1.
Don't leave sugar un-mixed with eggs for any period of time or you will end up with a lumpy mixture.
2.
When whisking egg whites, always ensure that the bowl & whisk are completely clean & free from any fat.
3.
Always fold in whisked egg whites quickly to prevent the loss of any air.
4.
Use oil-based spray instead of butter to grease tins to prevent an unpleasant burnt taste. However, butter can still be used for deserts which aren't going to be cooked for a long time like soufflés.
5.
Use a rubber spatula instead of a metal spoon when folding in egg whites so it's easier to get all the mixture out of the bowl.
6.
Any chocolate above 70% cocoa solids is often too bitter, so don't stress about finding the most expensive chocolate.
7.
Following the recipe exactly is the most important element in perfect baking. Weigh everything carefully and have the same size tin that the recipe recommends.
8.
Chocolate burns at 60-65° so don't use boiling water under a bowl when melting it - it doesn't even need to be on the heat!
9.
You can flavour ganache with nearly anything - orange, cinnamon, star anise, lapsang, green tea.
10.
Add a couple of pinches of salt to egg whites before whisking.
11.
If you're feeling brave, you can test whether egg whites are whisked by putting the bowl upside down above your head. If it stays put, you're good to go.
12.
With layered cakes, take the moulds off downwards to preserve the layers.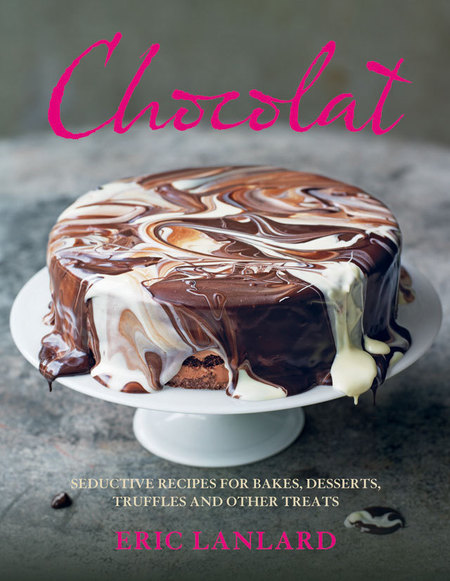 Chocolat: Chocolate Recipes For Desserts, Truffles, Cakes And Other Treats From Baking Mad's Eric Lanlard
, £18.99,
amazon.co.uk
.
What do you think?
TASTY TWEET: KIM KARDASHIAN ENJOYS AFTERNOON TEA
JAMES FRANCO'S S&M SEX TOY BIRTHDAY CAKE
REVIEW: JAPANESE FUSION AT SUSHINHO, LONDON