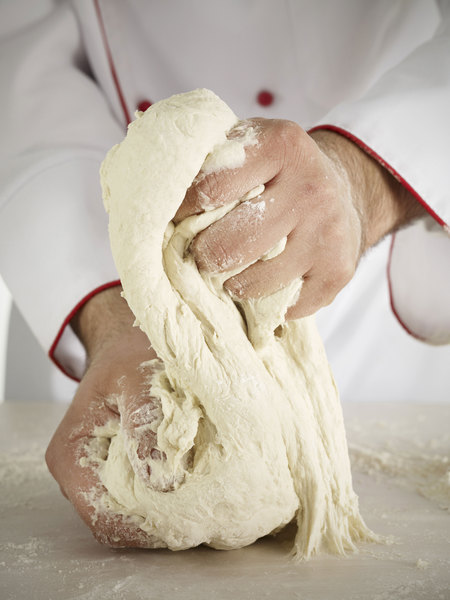 Ladies and gentlemen, welcome to British Pie Week! From now until Mother's Day eating a steak and Kidney masterpiece or a chicken and leak extravaganza should be actively encouraged.
We're going to be bringing you pie recipes every day this week, but if you're a pastry novice you might want to have a look at these helpful pointers from Rangemaster's Home Economist, Alison Trinder, before you roll up your sleeves.
Take it away Alison...
"I think we as a nation love anything that is made from pastry; be it apple pie, a Cornish pasty, a lemon meringue pie or a pork pie.
Of all the types of pastry, probably the most used and easiest to make is shortcrust pastry, good for tarts, quiches, apple pies and mince pies at Christmas time. The general rule is half the amount of fat to flour; the fat can be all butter for a really rich pastry or half butter and half pastry fat. It is easy to make by hand or in a mixer.
Shortcrust pastry can also be enriched with sugar and egg yolk to make a lovely base for a dessert such as a Bakewell Tart.
For a change you could add cheese to your shortcrust pastry for the base of a quiche or replace half of the flour with wholemeal flour for wholemeal pastry, great for the top of a chicken and ham pie.
Sometimes a recipe calls for the pastry to be 'baked blind'. This just means pre-baking before you add the filling, weighting it down while it cooks to leave room for the filling.
Line your tin with the pastry and trim the edges. Place a piece of greaseproof paper in the tin on top of the pastry and weight this down with ceramic baking beans or raw rice or even flour (discard the rice or flour afterwards).
Bake the pastry until it is beginning to brown around the edges. By then, the base will be set, you can remove the paper and the beans and return the pastry to the oven until the pastry is pale golden and cooked. This is ideal for a lemon meringue pie.
Another popular pastry type is puff pastry, so called because it has many layers that puff up during cooking. This pastry can be time consuming to make and ready-made puff pastry is very good. Great for sausage rolls and all types of savoury tarts and pies, sweet things too.
There are many types of really good ready-made pastry available in supermarkets, frozen and chilled, ready rolled, sweet dessert, all butter puff pastry and now there are reduced fat varieties too, so make use of them!
Filo pastry is very delicate and flaky and has to be brushed with butter before baking but produces a lovely crunchy pastry - perfect for apple strudel. Filo is good with savoury fillings too, like spinach and goats cheese.
So, there is no excuse not to make a home-made pie during British Pie Week. Remember if you have a multifunction oven you can use the base heat to ensure the base pastry is cooked, we do not want any soggy bottoms!"
What do you think?
Leave a comment below to
be in with a chance of winning a £100 goodie bag
WE LOVE: THE 5:2 COOKBOOK FOR FAST DIETERS
TASTY TWEET: ROSIE HW & THE HOMEMADE GREEN JUICE
TOP 5 FOOD HOT-SPOTS IN L.A.