Oprah Winfrey has been showing off her fancy new kitchen gadget on Twitter (and she's definitely not being paid to promote it!).
The celebrity interviewer Tweeted this snap of her healthy fryer with the caption, "This machine ..T-Fal actifry has changed my life. And they're not paying me to say it"
The Mississippi native obviously still loves her southern fried foods because she later showed off a plate of crispy fries and a veggie burger with condiments.
She accompanied the snap with the caption, "This entire plate of crispy fries, 1tblspn oil. Delicious with my veggie burger."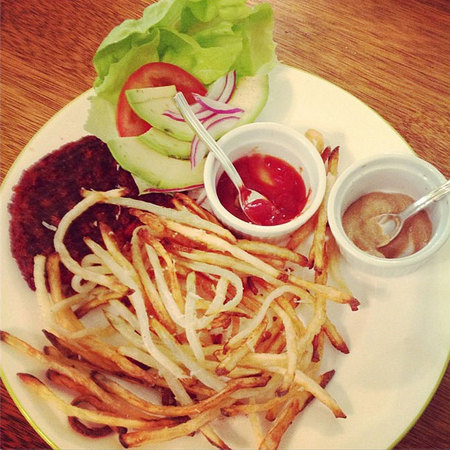 Oprah, who's struggled with her weight in the past, is obviously thrilled to discover such a healthy cooking system, but at $300 the
T-Fal Actifry
isn't exactly cheap.
In fact, this gizmo is more like a convection cooker than a deep fryer, so fatty oil is replaced with hot air and lots of stirring.
What do you think?
Leave a comment below to
be in with a chance of winning a £100 goodie bag
.
TASTY TWEETS: ROSIE HW ENJOYS ORGANIC PAPAYA
IT'S NATIONAL CHIP WEEK!
LORRAINE PASCALE TALKS ABOUT HER FRIDGE ESSENTIALS