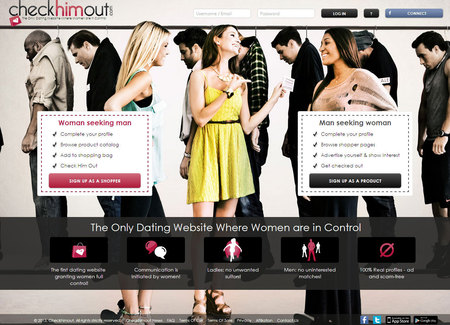 Lots of dating sites have come under scrutiny in the past, especially those that encourage affairs and Sugar Daddy relationships. But new website
Checkhimout.com
has come under fire for being sexist against, well, everyone!
The dating site allows women to sign up and browse a 'product catalogue' of eligible men, while blokes can visit the 'shopper pages' to find the women who's right for them.
Men. Product Catalogue. Pictures of poor chaps on clothes hangers. We're not shopping for a little black dress!
Once you're signed up, members can find a chap in the online man-market, add him to their shopping bag and check out if he is 'deemed satisfactory'.
Don't worry this isn't just a thinly veiled escort service! No money actually exchanges hands...just pride.
Checkhimout.com market themselves as an empowering and fun addition to the saturated online dating world, where women are given all the power rather than men.
Spokesperson for the site, Marie Aniort told the MailOnline, 'What woman doesn't dream about having a diverse portfolio of men at her disposal? Women are not only receiving full access to our revolutionary 'man-market'– they are able to experiment with love in a way that has never been seen before."
Checkhimout.com are also planning an actual 'man shop' in central London, but we're not sure who would willingly offer to be 'on sale'. Marie Aniort added, "It will also gives our man-products the opportunity to interact with interested women face-to-face, so both parties can enjoy a new depth to the experience."
Hhhmmmm. Men have to wait to be chosen, so at least that proves that the women they interact with are genuinely interested. But what happens if they're the only 'item' left in the 'shop'?
And what happens when stocks run out...
What do you think?
Leave a comment below to
be in with a chance of winning a £100 goodie bag
.
BOOST YOUR SEX LIFE WITH BLUEBELLA PLEASURE RINGS
SHOULD YOU STOP SEARCHING FOR YOUR SOULMATE?
WHAT HE'S REALLY THINKING ON A FIRST DATE