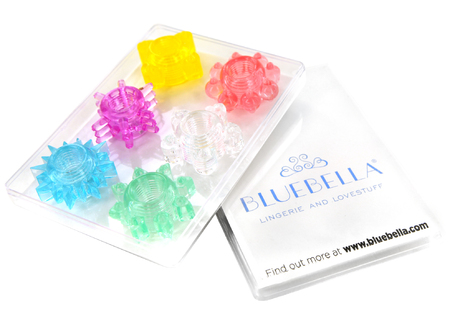 If you're looking for a starter sex toy that's more silly rather than scary, you need these BlueBella RingADing textured love rings.
The set of six stretchy textured rings have been designed with different nodules and bumps, so they're comfortable for him and sensational for you!
Designed to sit at the base of the penis, these rings will help to maintain his erection (by restricting blood flow slightly), intensify his orgasm and can be used to stimulate your clitoris during foreplay or the, errmm, main event.
They're completely skin safe and can be used alone or all together if you're feeling particularly adventurous.
BlueBella.com
stock loads of great sex toys and lingerie and also plan
Fifty Shades of Grey
themed party nights for you and your more open-minded mates.
Ring-A-Ding set, £12,
BlueBella.com
.
Would you give these quirky toys a try in your bedroom?
Leave a comment below to
be in with a chance of winning a £100 goodie bag
WHAT HE'S REALLY THINKING ON A FIRST DATE
TRY THE 'COME HITHER' G-SPOT TECHNIQUE
FACEBOOK ERRORS THAT COULD RUIN YOUR RELATIONSHIP