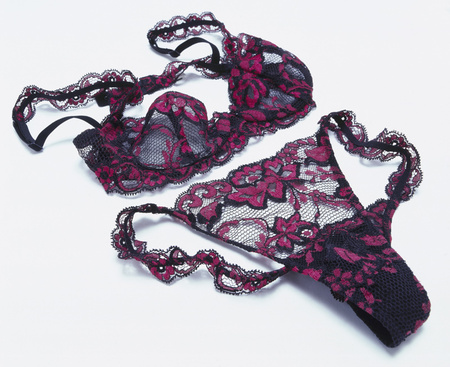 We know the drill. You see a shiny lingerie box tucked under the tree but you have no idea what's inside. Will he be offended if you hate it? Is it the right size? What does it mean if he buys knickers four sizes too big? Does he think I'm fat?
Every year £100 million is spent on lingerie by blokes who don't really know what they're doing.
Online designer lingerie destination,
Fox & Rose
, has discovered that one in five women have never worn the lingerie purchased by their partners, while 23% of those surveyed revealed they've only worn it once.
According to the poll, 60% of women dread receiving crotchless knickers, 58% fear PVC and leather items, while 42% are fretting about fishnet stockings.
To help men choose lingerie gifts that really hit the spot, Fox & Rose has launched its free
Gentlemen's Lingerie Lifelines
advice site, offering tips on everything from size and style to a glossary of lingerie terms.
Here are Fox & Rose's top tips to point your chap in the right direction (conveniently leave this page open on your laptop when you 'go and get a coffee')
1. Know Her Size
Check her underwear drawer to get the right sizes. It's sneaky but works wonders. Look at the labels to find out what bra size and knicker size she wears. If that's not possible and she has protected all her clothing with deadlocks choose a beautiful silk robe.
2. Be Taste Sensitive
This will bring you serious brownie points. What style of knicker does she normally wear? Does she like little thongs, short style knickers or a classic lace knicker? If she's not a fan of red suspenders, don't try and tempt her out of her comfort zone. If she is feminine, go for one of the stunning nude or pale lingerie sets and show her you pay attention. If she's a seductress opt for a more sultry look in classic black.
3. Make It Special
Designer lingerie is a treat. We find that men either veer towards safe options or opt for ill-fitting and (usually) unwanted crotchless knickers! Most women enjoy receiving beautiful underwear they wouldn't necessarily buy themselves, so go for something bold and a little different like a babydoll slip or a sleek black corset.
4. Stay On Trend
Some labels such as Stella McCartney Lingerie, La Perla and Ell & Cee are fashion-inspired and you'll demonstrate some serious style knowledge if you manage to channel this season's key trends into her designer lingerie collection. Damaris is an excellent choice for a truly special gift, whereas Mimi Holliday never fails to delight.
5. Be Practical
Ask for help – whether you're buying on or offline. You can email one of our designer lingerie gurus at Fox & Rose if you have any questions. Most retailers enjoy helping out their male customers so don't feel embarrassed: they are there to help you pick the perfect gift! And don't forget to opt for the gift wrapping…stunning packaging is essential and you won't have the chore of making it look beautiful either.
What do you think?
STIMULATE YOUR 'CUL-DE-SAC' FOR BETTER SEX
VEGETARIANS HAVE BETTER SEX LIVES
HOW TO HAVE A FULL BODY ORGASM