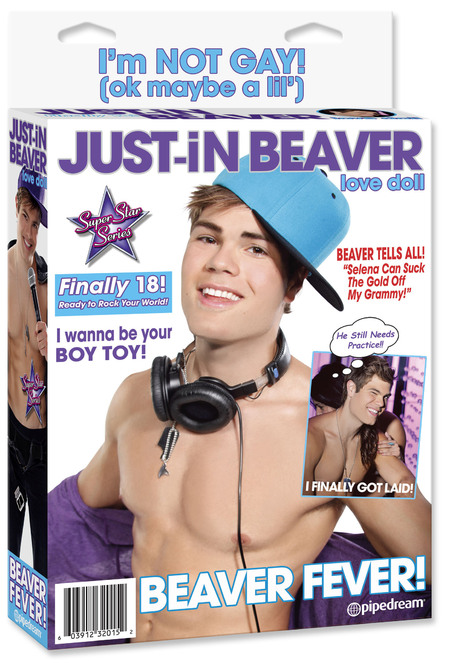 You know you've made it as a celeb when people make a sex doll of you.
We're sure Justin Bieber is terribly flattered (or completely weirded out) as there has been an inflatable version of the popstar released.
The Just-in Beaver (cough) doll is the 'barely legal boy-toy' for the avid Bieber fan.
Being sold for $26 in America, the box sports a Bieber sort-of lookalike and proclaims 'I'm not gay! (ok maybe a lil')'.
For those with 'Beaver fever', the fake Bieber says 'I wanna be your boy toy!'
The box claims that, "Beave-ster doesn't have this effect just on women–he turns straight men gay faster than you can peel his skinny jeans off."
The doll is created by Pipedream Products, the same creative folks that launched the Miley Cyrus sex doll and the 'JHo Booty from the Block' doll.
We're sure Justin's people will stop sales of the doll from blowing up (sorry) to prevent Bieber lovers from grabbing one (again, sorry).
Too…many…puns…
JUSTIN BIEBER WINS BIG AT 2012 AMAS
ULTIMATE BREAK-UP FOODS FOR BIEBER
WHO WOULD YOU DATE? EDWARD CULLEN OR JACOB BLACK