Why go?
The renowned Aqua bar in London has devised the perfect way to spend a Sunday with their infinity brunch.
This means infinite Japanese delights and as much Veuve Clicquot champagne as you can manage in three hours. Ingenius.
But forget conveyor belts and strip lighting, this isn't your usual all you can eat sushi joint. The stylish and slick interior and well dressed clientele make this a sophisticated dining experience (so leave your buffet stretchy pants at home!)
The idea isn't a fill your boots race. The relaxed vibe of
Aqua Kyoto
and the diners make it the perfet place to graze with friends or while away the day celebrating a special occasion.
Eat?
The food is exceptional. Delicious sashimi morsels, delicate sushi rolls and Japanese salads.
There's also the grill that you can order from with melt-in-the-mouth beef and crunchy calamari.
And make sure leave room for the puddings. The traditional Mochi ice creams (little sticky rice balls filled with ice cream) are delicious and definitely worth the calories.
Drink?
Aqua is perched high above Regent street, so make sure you take your first glass of fizz on their amazing roof terrace and gaze out across the city.
The attentive waiting staff will make sure your champagne flute doesn't dip below half full (so ensure you drink some water to avoid being asleep by 4pm!)
The low down
Aqua Infinity Sunday costs £55 per person with limitless Champagne, £35 without drinks.
Aqua London, 5th Floor, 240 Regent Street, London, W1B 3BR. 0207 478 0540
Aqua-london.com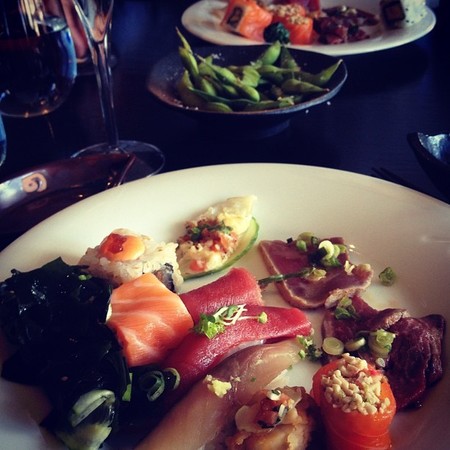 MARCO PIERRE WHITE COMES TO NEWCASTLE
WOMEN START WEEKEND PARTY PREP ON A WEDNESDAY
LIFE SKILLS: HOW TO MAKE YOUR OWN GIN