Why go?
Newcastle upon Tyne is a shopper's paradise. But even the most dedicated shopper needs to take a breather. Nestled in Eldon Garden, beside Eldon Square shopping complex, Garden Kitchen is the perfect place to drop your bags and refuel among watering cans, flowerpots and wicker hampers.
Eat
Whether you want a speedy sandwich or a more leisurely lunch, Garden Kitchen caters for everyone. The locally-sourced ingredients are freshly prepared but if a burger, salad or soup isn't your thing then try a Garden Kitchen signature picnic: a selection of scones, open sandwiches and salads all served atop a miniature picnic bench.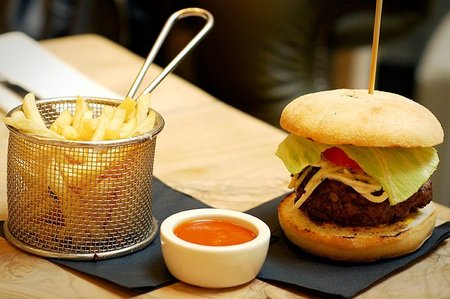 Drink
Tea, coffee and juices are all on offer and there's an extensive wine list but it's worth sampling Garden Kitchen's super refreshing home made lemonade or one of their garden-inspired cocktails – the Bloody Mary is a speciality.
Don't miss
Leave plenty of space for the delicious range of cakes, scones and cupcakes – supplied by a regional baker. If you don't have time for a proper break, take a pit stop at the kitchen's baby sister, Garden Shed, instead to grab a coffee, a salad bowl or a slice of something sweet.
Low down
Garden Kitchen is open 8am til 6pm most days, 8am til 7pm on Thursdays and 10am til 5pm on Sundays.
Garden Kitchen can be found at Eldon Garden, Newcastle upon Tyne, NE1 7RA. 0191 232 7885,
gardenkitchennewcastle.com