Madeleine Shaw is
Millie Mackintosh
's secret healthy diet weapon. As a nutritionist, Madeleine is an expert at helping women cut their sugar addiction by turning to healthy and hearty whole foods and juices.
Now that Millie's on the countdown to her big wedding day (some sources say she's getting married in September) she's turned to raw energy balls with cacao to help her stave off those chocolate cravings.
These tasty, squidgy balls of coconut, almond and raw cacao powder (what chocolate is before all the milk and sugar is added) are surprisingly sweet, easy to make and can be filled with all sorts of yummy ingredients like fruit,
superfood chia seeds
and goji berries.
To
make a batch
you'll need...
Raw cacao powder (high in antioxidants)
Coconut oil
Dessicated coconut
Dried dates
Ground almond powder
Method:
Firstly, you'll need to soak the dates in waterfor 20 minutes so they soften slightly. In a food processor blend the almonds, coconut and cacao powder.
Melt the coconut oil in a pan and slowly add the dates and melted oil to the food processor, whisking every 20 seconds. Blend completely until a thick paste is made.
Roll the mixture into bit size balls with your hands then place into the freezer for half an hour, then refrigerate until you want to eat. These bite-sized treats can be covered in chia seeds or goji berries for some extra superfoody action!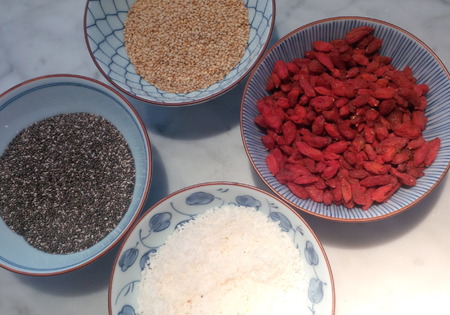 Madeleine Shaw has teamed up with new and improved Sure Compressed deodorant to help women improve their fitness and nutrition this summer. Find out more at surewomen.co.uk
Will you be making these chocco energy balls?
KOURTNEY KARDASHIAN'S GREEN JUICE RECIPE
SICILIAN CHICKEN PASTA WITH GARLIC & RED WINE
THE HANDBAG BLUE GIN AND ORANGE COCKTAIL
JESSIE J'S ICED RED VELVET CAKE