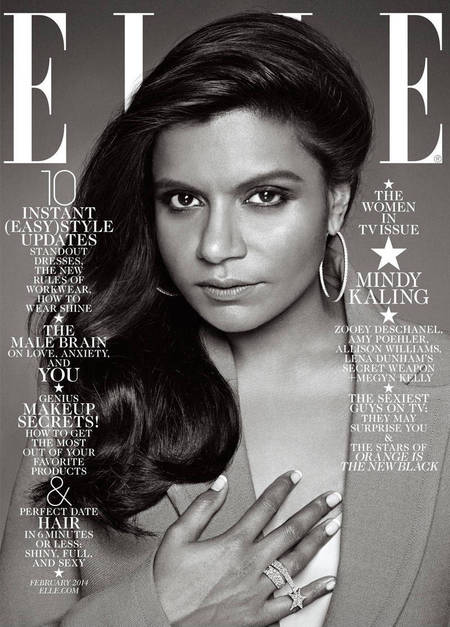 When American
Elle
created four 'Women in TV' covers for their February issue, they probably didn't expect to get such massive backlash on
social media
.
Critics are angry that comedy actress
Mindy Kaling's
picture is black and white and cropped in comparison to
Amy Poehler
,
Allison Williams
and
Zooey Deschanel's
covers.
Take a look at the difference in the Tweet below...
Mindy Kaling's Elle cover looks different from the others http://t.co/dyXvVmf4NL pic.twitter.com/4JKOSxIjqP

— Jezebel (@Jezebel) January 7, 2014
Although everyone's in agreement that Mindy looks gorgeous in the picture, some fans on
Twitter
have claimed the picture was chosen to deliberately disguise her fuller frame. Others have even argued that making the image black and white is racist...
I'm glad people are attacking ELLE Magazine for this http://t.co/WQXi2D8QVK because @mindykaling is beautiful.

— JENN GREEN (@jelrGREEN) January 7, 2014
I'm sure I'm late to this outrage, but why is Mindy Kaling's Elle Cover B&W and neck up when the other 3 aren't? http://t.co/K8UFOZeKpx

— Harrison Mooney (@HarrisonMooney) January 7, 2014
So happy to see Mindy Kaling on the cover of Elle, but why is hers the only one in black &white? Is this a mistake? pic.twitter.com/wY7UyuoqLJ

— nicolette mason (@nicolettemason) January 6, 2014
@ELLEmagazine's cover featuring Mindy Kaling is a post-racial liberal's wet dream. Unfortunately, it's still racist.
Try harder Elle.

— Natalie (@cupitorisgirl) January 7, 2014
@ELLEmagazine Mindy Kaling cover just plain racist and fat-ist. You do not empower women ELLE, you bring them down.

— Claire Edwards (@ClaireEdwards10) January 6, 2014
This isn't the first time Elle US has been attacked for its cover choices. Last year
Melissa McCarthy's
fans argued that an
oversized coat
was used to disguise her larger frame on the fashion tome's cover.
However, Melissa was quick to dismiss rumours that she'd been covered up claiming the styling was all her idea.
What do you think of Mindy's cover? Does it deserve the 'racist' tag? Tweet us
@handbagcom
.
Pick up a copy of
Elle
US' February issue on sale now.
LENA DUNHAM & MINDY KALING INTERVIEW IS BEST THING EVER
SHOULD AMERICAN ELLE APOLOGISE FOR THIS MELISSA MCCARTHY COVER?
MORE LIFE NEWS