The words 'scarred', 'for' and 'life' come to mind, but we're going to ignore that for a second to show you
Kim Kardashian's
naked antics in Kanye's new music video.
In an exclusive preview on the
Ellen DeGeneres
show, Kanye showcased his
Bound 2
video featuring an exceptionally naked
Kim Kardashian
suggestively lounging on a motorbike.
SCROLL DOWN FOR KANYE WEST'S BOUND 2 MUSIC VIDEO
If that's not bad (and embarassing) enough, Kim and Kanye then appear to simulate sex as the motorbike drives along a weird CGI desert landscape.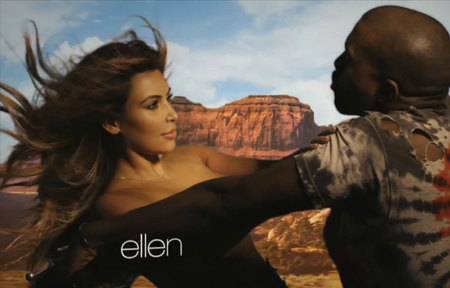 Kim publicly announced she wanted to
lose 50lbs after giving birth
to
North West
in June.
Insider revealed the reality star turned to the
Atkins Diet
as part of an extreme weight loss routine.
Kanye's *interesting* video was directed by fashion photographer Nick Knight, but, let's face it, all anyone's going to be talking about is Kim's bod.
Kanye also dished about his amazing
baseball stadium marriage proposal
. He said, "It was just awesome. I think that Kim is awesome and she just deserved like awesome moment like that. Yeah she thought I was going to bring
Lana Del Rey
out and you know she's already expecting these type things. She's oh yeah, it's just something that he would do… rent out a baseball field and bring Lana, yeah birthday or whatever.
"So I knew I had to turn up more because I think people expect even more from me in every situation whether it's an album, a video or concert, or you know an engagement. I may have taken it to a completely, you know, yeah….another level."
KIM KARDASHIAN'S WHITE LACE & BLACK UNDERWEAR - TOO MUCH?
KIM KARDASHIAN'S ODE TO HER POST BABY VAGINA
MORE CELEBRITY NEWS