The call to ban lads' mags is not a new idea. In 2011 The University of Surrey worked with Middlesex University to investigate the dangerous and abusive language found in these magazines.
If people are unable to identify when
statements are made by convicted rapists
and when they appear in weekly glossies surely something's wrong?
The project asked people to read a selection of crude and sometimes violent comments and chose who said them.
Results showed that, although men were more able to successfully identify the difference, there was no clear consensus.
The lead author Dr. Miranda Horvath said, "We were surprised that participants identified more with the rapists' quotes, and we are concerned that the legitimisation strategies that rapists deploy when they talk about women are more familiar to these young men than we had anticipated."
After a survey was conducted on
Daybreak
last month, 45% of people who voted wanted the magazines banned.
So do the other 55% of people believe statements like these belong on supermarket shelves?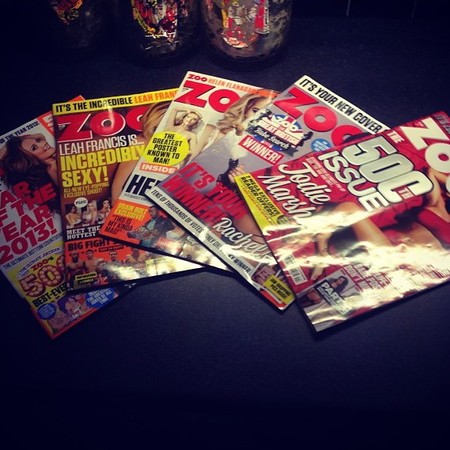 Quotes used by researchers:
1. I think girls are like plasticine, if you warm them up you can do anything you want with them. (LM)

2. Some women are domineering, but I think it's more or less the man who should put his foot down. The man is supposed to be the man. If he acts the man, the woman won't be domineering. (R)

3. A girl may like anal sex because it makes her feel incredibly naughty and she likes feeling like a dirty slut. If this is the case, you can try all sorts of humiliating acts to help live out her filthy fantasy. (LM)

4. Mascara running down the cheeks means they've just been crying, and it was probably your fault . . . but you can cheer up the miserable beauty with a bit of the old in and out. (LM)

5. Filthy talk can be such a turn on for a girl . . . no one wants to be shagged by a mouse . . . A few compliments won't do any harm either . . . 'I bet you want it from behind you dirty whore' . . .(LM)

6. You know girls in general are all right. But some of them are bitches . . . The bitches are the type that . . . need to have it stuffed to them hard and heavy. (R)

7. You do not want to be caught red-handed . . . go and smash her on a park bench. That used to be my trick. (LM)

8. You'll find most girls will be reluctant about going to bed with somebody or crawling in the back seat of a car . . . But you can usually seduce them, and they'll do it willingly. (R)

9. Girls ask for it by wearing these mini-skirts and hotpants . . . they're just displaying their body . . . Whether they realise it or not they're saying, 'Hey, I've got a beautiful body, and it's yours if you want it.' (R)
With
the recent explanation of the Page 3 issue
from
The Sun
editor David Dinsmore leaving campaigners exasperated if not surprised, we have to wonder what it will take for publications to stop "normalising the treatment of women as sexual objects," as Horvath put it?
NEED CONVINCING ROBIN THICKE'S SONG IS RAPEY?
THE SUN EDITOR: WHY HE'S "STICKING WITH PAGE 3"
MORE IN LIFE