Sherlock star
Benedict Cumberbatch
and the rest of the people who work on the show have some very strong views about spoilers.
They hate them
.
So giving us this glimpse of the new series of the show can only mean one thing - it has to start soon!
Fans of the show have been desperate for any news of the airing and the BBC bosses have teased us all with some annoyingly ambiguous tweets.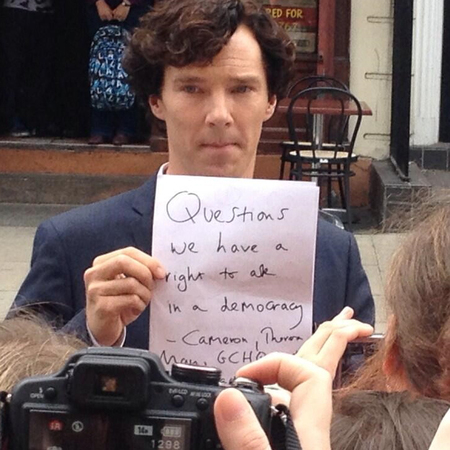 They posted the photo along with the words, "It's been a long time since Sherlock Holmes jumped off that roof - it's time to reveal the truth about what happened between him and the pavement."
They added, "How did he do it? #Sherlock"
And how will John take the news that his best friend faked his own death? #Sherlock

— BBC One (@BBCOne) November 5, 2013
What will #Sherlock think when he finds out John has fallen in love with Mary Morstan?

— BBC One (@BBCOne) November 5, 2013
We're not sure we could be more excited!
BENEDICT CUMBERBATCH FILMING IN LONDON
MADE IN CHELSEA SERIES 6: WILL JAMIE EVER LEARN?
MORE TV NEWS AND GOSSIP