When it comes to female pop stars, we can't seem to go a day without seeing more skin, more sex and in some cases more vagina.
Terry Richardson released some pretty explicit pictures of Miley Cyrus from another shoot and it's all starting to get a bit creepy.
The 20-year-old singer was
photographed with a LOT on show
.
This and her previous stunts provoked Sinead O'Connor to give her two bits on the matter.
The singer published two
open letters to the young star
urging her to stop letting the music industry treat her like a "prostitute" and warned her of her inevitable decent into mental illness.
The other point raised in O'Connor's letter was a question of who was advising Miley.
Interestingly Miley has proudly declared that her management was pleased with her VMAs performance and that the whole thing was "well planned".
Meanwhile, Rihanna has released a behind the scenes clip of her latest, raciest video
Pour It Up
in which she seems to make a direct dig at Miley Cyrus.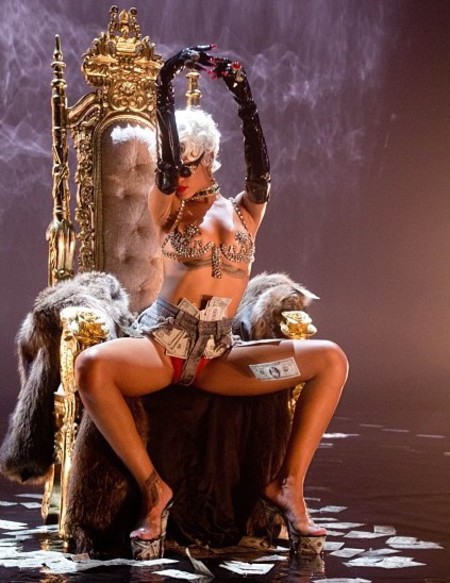 She tells fans she's directing the shoot and says, "I bet you never seen bitches twerk on water. My bitches twerk in water."
It's all sounding like a bit of a competition over who can be the most sexual...
And the stakes keep getting higher.
So, the question seems to be how much of it is a curse of the industry and how much of it is their choice?
Britney Spears recently explained that she felt the need to edit her own video for
Work Bitch
as the director's cut was more extreme than she wanted.
That said, no one dragged Britney down to the dessert to shoot a video in her underwear.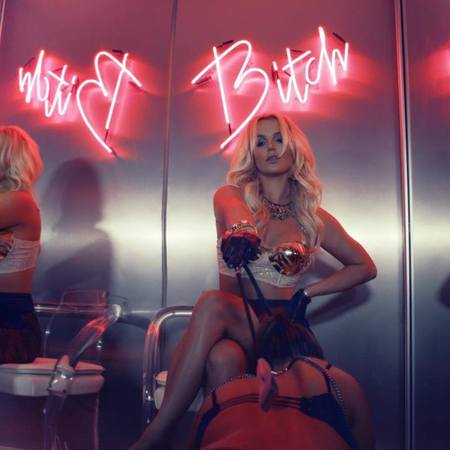 The director Ben Mor told
Entertainment Weekly
, "No one is forcing anyone to do anything that they don't want to do, and they're very well aware of that.
They might change their mind after the fact, but Rihanna, Miley Cyrus, and Britney Spears are all very much in control of their image.
Things don't just happen. Everything is scrutinised."
So, if she's not happy with the style of video, why would she do it?
Well, Kesha's recent Instagram antics seem to back up a little of what Sinead O'Connor was getting at.
In what appears to be a miss-fired protest, she posed in a number of photos in suspenders and a t-shirt with "high fashion" written with an arrow pointing to her bare bum.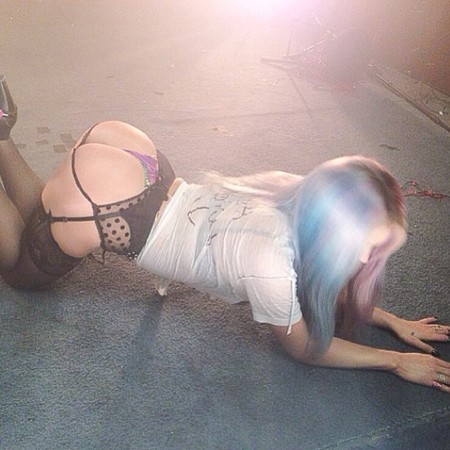 It's hard to tell with Kesha, it looks like she's trying to make some kind of statement about gratuitous nudity by getting naked.
Either way, her end goal was clear - to get in the press.
And it worked.
So, "prostitutes" of the industry may be a little extreme and certainly doesn't take into account these women's own desire to be talked about above all else.
And you know what they say, no publicity is bad publicity...
MILEY CYRUS TAKES HER VAGINA TO A PHOTOSHOOT
DID BRITNEY SPEARS CENSOR HER OWN WORK BITCH VIDEO?
RIHANNA BARES ALL IN NEW POUR IT UP VIDEO