Harry Potter
fans across the world have been dancing for joy ever since
JK Rowling
announced plans for a new film based on her spin-off book,
Fantastic Beasts and Where to Find Them by Newt Scamander
.
JK Rowling will be writing the screenplay for this brand new endeavour that promises to add even more back story to the
Harry Potter
universe. But you can forget about Harry, Ron and Hermoine, because they definitely won't be making an appearance.
The book was originally published for Comic Relief in 2001 alongside
Quidditch Through The Ages
to extend the back story of a small
Potter
character, Newt Scamander.
At the time Rowling explained, "
Fantastic Beasts And Where To Find Them
is a book that Harry buys to go to Hogwarts so it's one of his school textbooks and
Quidditch Through The Ages
is a library title. I always write more than I need for the books so bits of them were just written for my own fun. So when Comic Relief asked me to write something I thought I would just love to write them, I just thought it would be so much fun and I was completely correct. It was more fun than I've had writing the others."
It turns out Warner Brothers were so taken by the mythical creatures, Ministry of Magic's official classifications for magical creatures and 'magizoology' of
Fantastic Beasts
that they've decided to turn the whole thing into a big budget Hollywood movie!
According to JK Rowling's website, the two books have generated more than £17 million for Comic Relief. WOW.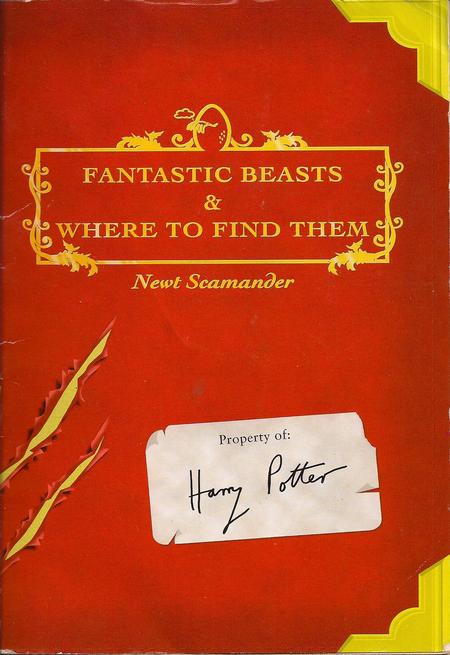 Read the full statement from JK Rowling's official Facebook page here...
"Warner Bros. announced on 12th September 2013 that J.K. Rowling would be making her screenwriting debut with 'Fantastic Beasts and Where to Find Them', the first in a new film series which is part of their expanded creative partnership with J.K. Rowling. The films will be inspired by Harry Potter's Hogwarts textbook of the same name, and will feature the book's fictitious author, Newt Scamander.
"It all started when Warner Bros. came to me with the suggestion of turning 'Fantastic Beasts and Where to Find Them' into a film. I thought it was a fun idea, but the idea of seeing Newt Scamander, the supposed author of 'Fantastic Beasts', realised by another writer was difficult. Having lived for so long in my fictional universe, I feel very protective of it and I already knew a lot about Newt. As hard-core Harry Potter fans will know, I liked him so much that I even married his grandson, Rolf, to one of my favourite characters from the Harry Potter series, Luna Lovegood.
As I considered Warners' proposal, an idea took shape that I couldn't dislodge. That is how I ended up pitching my own idea for a film to Warner Bros.
Although it will be set in the worldwide community of witches and wizards where I was so happy for seventeen years, 'Fantastic Beasts and Where to Find Them' is neither a prequel nor a sequel to the Harry Potter series, but an extension of the wizarding world. The laws and customs of the hidden magical society will be familiar to anyone who has read the Harry Potter books or seen the films, but Newt's story will start in New York, seventy years before Harry's gets underway.
I particularly want to thank Kevin Tsujihara of Warner Bros. for his support in this project, which would not have happened without him. I always said that I would only revisit the wizarding world if I had an idea that I was really excited about and this is it."
What do you think?
MIRANDA KERR READS "NATURAL HISTORIES"
READER REVIEW: TEMPTING FATE BY JANE GREEN
WHAT'S ALL THE FUSS ABOUT THE BONE SEASON?