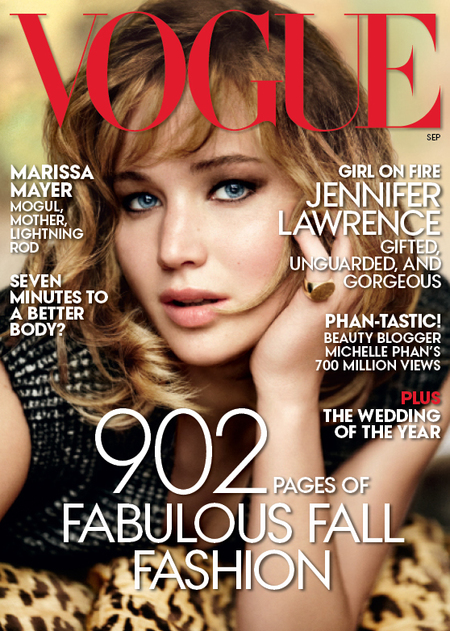 Jennifer Lawrence
is one of the hottest actresses around right now and it seems like she always knew that she was destined for big things.
In an interview with September's American
Vogue
, J-Law admits she foresaw her fame growing up in Kentucky.
"Ever since I was really little, I always had a very normal idea of what I wanted: I was going to be a mum and I was going to be a doctor and I was going to live in Kentucky."
"But I always knew that I was going to be famous. I used to lie in bed and wonder, 'Am I going to be a local TV person? Am I going to be a motivational speaker?' It wasn't a vision. But as it's kind of happening, you have this buried understanding: Of course."
The
Catching Fire
star spoke about her increasing fame and how hard it's becoming for her to handle.
"All of a sudden the entire world feels entitled to know everything about me, including what I'm doing on my weekends when I'm spending time with my nephew. And I don't have the right to say, 'I'm with my family.'"
She added, "I am just a normal girl and a human being, and I haven't been in this long enough to feel like this is my new normal. I'm not going to find peace with it."
Jen also spoke about the anxiety issues she had when she was younger.
"I was a weirdo," she said. "I wasn't picked on or anything. And I wasn't smarter than the other kids; that's not why I didn't fit in. I've always just had this weird anxiety.
"I hated recess. I didn't like field trips. Parties really stressed me out. And I had a very different sense of humour."
She also spoke about her early life and what it was like to grow up in Kentucky.
"I grew up in Kentucky, I have brothers, we had to do sports, I was a horrible student, and I kept getting grounded every time my report card came out. Acting was never an option. It wasn't like, 'Oh, well, you got a C in math; you're grounded. But you can be an actor!'"
Jennifer is one of the youngest actresses to win an Oscar for her role in
Silver Linings Playbook
. Take a look at our gallery of other female actresses who've won or been nominated at a young age....
What do you think?
JENNIFER LAWRENCE IS STARSTRUCK BY JEFF BRIDGES
HAIR HOW TO: JENNIFER LAWRENCE'S BRAIDED DO AT COMIC CON
HUNGER GAMES: CATCHING FIRE TRAILER RELEASED