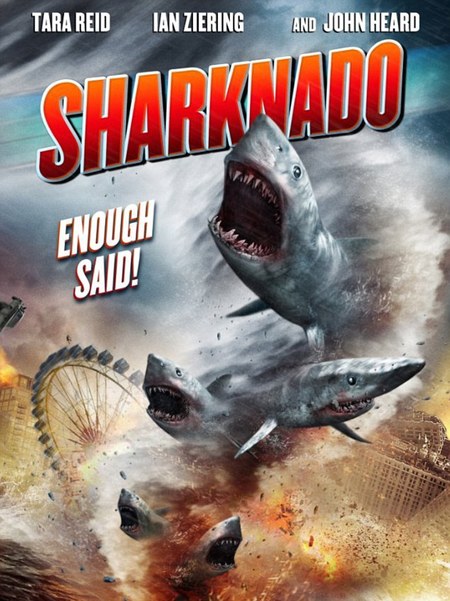 Celebs have been taking over Twitter to declare their love for Syfy special,
Sharknado
- a feature length film starring
Tara Reid
about flying sharks in tornadoes. Errr come again?
Sharknado
, about killer great whites attacking the world through the wind (ooohh aaaahhh), has become an overnight success thanks to a legion of Twitter followers.
The plot is, obvioulsy, ridiculous and the dialogue sounds like somebody wrote it on a napkin after one too many gin and tonics, but we have to admit, it's soooo bad it's almost good! One of the lead characters, conveniently named Fin, chainsaws his way out of a shark's stomach. Seriously.
American Pie
star Tara Reid has now admitted she'd be interested in doing a sequel because of how much support it's gained online.
Watch the trailer here...
Tara told TMZ, "This movie was so ridiculous, you know? Like it's almost so bad that it's good. I'm just so glad that people saw the humour in it that I did."
Oh yes, we definitely got the humour.
Now the Twittersphere has been going wild with suggestions for new movies like
Wolfcano
and
Bearnami
.
The LA Times said, "It's the whole over-the-top insanity of it all, the splendid and glorious belief that if you say even god-awful lines firmly enough, if you look hot while drawing some weapon with which you clearly have no familiarity, if you acknowledge the yawning chasms in plot by saying things like "This is crazy" and "Do you trust me?" often enough, your audience will stay with you."
LOL.
Check out some amazing celeb Tweets...
"We lost the night to #SharkNado? What the hell is that?" - every non-syfy network executive tomorrow morning.

— Wil Wheaton (@wilw) July 12, 2013
@ElizabethBanks Banks, this is our chance to play Siamese twins: two heads, one magnificent shark tail. Emmys all around. #SharknadoTwo

— olivia wilde (@oliviawilde) July 12, 2013
I know it's only been 12 hours, but I'm not sure I'll ever be able to talk about anything non-Sharknado-related again.

— Damon Lindelof (@DamonLindelof) July 12, 2013
SHARKNADO SEQUELS

Wolfcano
Bearnami
Hippoquake
Piranhurricane
Tarantulavalanche
Lizard Blizzard

— God (@TheTweetOfGod) July 12, 2013
Somewhere, JJ Abrams is quietly, tearfully deleting the sharknado scene from his STAR WARS: EPISODE VII screenplay.

— Patton Oswalt (@pattonoswalt) July 12, 2013
I didn't watch "Sharknado". It conflicted with my DVR taping of "ClamQuake."

— Conan O'Brien (@ConanOBrien) July 12, 2013
What do you think?
KHLOE KARDASHIAN BEGS KIM TO COME OUT OF HIDING
'BOND 24' GIVEN 2015 RELEASE DATE
LINDSAY LOHAN TO BE INTERVIEWED BY OPRAH