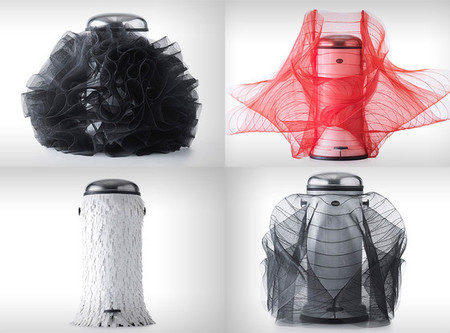 Never in a million years did we think somebody would re-design the dustbin...but then who knows what's going to happen when one of
Lady Gaga
's team is on board.
Gaga's costume designer, Lessja Verlingieri, has created a range of super high end couture bins with a seriously high end price tag to match.
The collaboration with Danish kitchenware company Vipp - also known as Trashion - aims to make trash cans look like works of art. According to insiders, the bins require 400 hours of work, genius fabric draping, patience and plenty of artistic vision.
Okay then.
In the past Vipp have worked with other esteemed designer talent like Damien Hirst, Phillippe Starck, Christian Lacroix, Calvin Klein, Ralph Lauren and more to reimagine their pricey pedal bins into collectibles for charity.
From what we can gather so far, these new Lady Gaga inspired items aren't for charity, but you'd need to be feeling pretty generous to snap one up. The black organza designs cost $4,500 (£3,000), while the quirky white tiered option is a staggering $6,540 (£4,300).
WOW!
The entire collection is on display at the Vipp flagship store in Copenhagen and is available to ship worldwide.
What do you think of these designer trash cans?
COMPANY MAKES COAT OUT OF CHEST HAIR TO SELL CHOCOLATE MILK
WHY DAX SHEPARD CAN'T BE PETA'S SEXIEST VEGETARIAN
WATCH! MIRANDA KERR TALKS GREEN SMOOTHIES