Pregnant Kim Kardashian is not going to be happy about a canadian models claim that
Kanye West
has been sleeping with her while Kimmy is preggars with his child.
24-year-old Leyla Ghobadi has opened up about the alleged affair to America's Star Magazine claiming that the fling started back in July 2012 and keep going even when Kim announced that she was pregnant.
She claims that Kanye West told her that his relationship with Kim was just "for publicity and nothing serious".
Speaking to the mag, Leyla said, "This is going to destroy the Kardashian family. It's bad. It's really bad. It's just embarrassing. But if I were Kim and about to have a baby, I would want to know."
The article claims Kanye set his sight on Leyla when she was dancing with friends at his Atlantic City show where Kim was also cheering him on.
He apparently told his entourage to invite the model backstage before taking her for cocktails and asking her to come back to his hotel.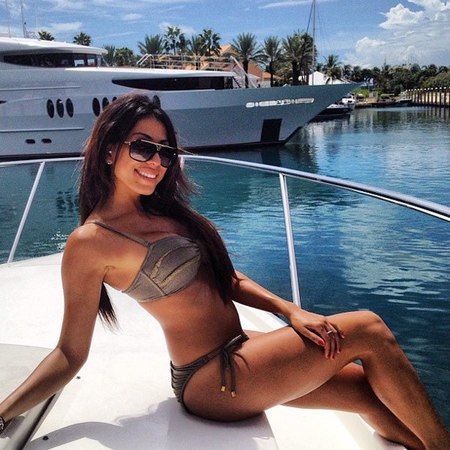 She claims, "I refused, as I felt it was too rushed" and then Kanye allegedly gave Leyla and her friends backstage passes to his show the next night.
The second time they went back to his hotel was not so innocent as she said, "We began to make out for a while - and next thing I knew, we were both naked and having sex."
The pair met again in New York in October 2012 while Kim was in Miami.
But the real stinger is the fact Leyla says Kanye contacted her LAST WEEKEND to try and arrange another meet-up but due to Kim's pregnanyc Leyla claims she said no saying,"I would never do that to someone."
Kim's representatives have denied the reports, while Kanye's people are yet to respond.
Oh dear...
What do you think?
KANYE WEST DOESN'T WANT TO MARRY KIM KARDASHIAN?
KIM KARDASHIAN SERENADED BY KANYE WEST
CARA DELEVINGNE NIPPLE FLASH ON INSTAGRAM