Kelly Clarkson
lost her $150,000 canary yellow diamond engagement ring this weekend after misplacing it at the CMA Music Festival in Nashville.
Oh it makes you feel sick to your stomach.
Clarkson is set to marry fiancé Brandon Blackstock this Autumn (that's if he's still speaking to her) and she apologised to the poor guy after performing without the custom-designed ring by Johnathon Arndt.
If you're sporting a new bit of bling, here's how to ensure it stays firmly where it was put…
1. Resize immediately
If your engagement ring doesn't fit, resist the urge to wear it anyway until you are able to have it resized. Take it off and put it somewhere safe until it can be made a perfect fit.
2. Don't flash a naked finger in public
Keep your bling firmly in place when out and about. It might sound obvious, but many a ring has gone missing after taking it off to wash hands in the bathroom. Just keep it on.
3. Just don't take it off
There are very few reasons why you need to ever take your ring off. It can always be cleaned and although it may feel weird to begin with, but soon you won't even notice it's there – but it will be.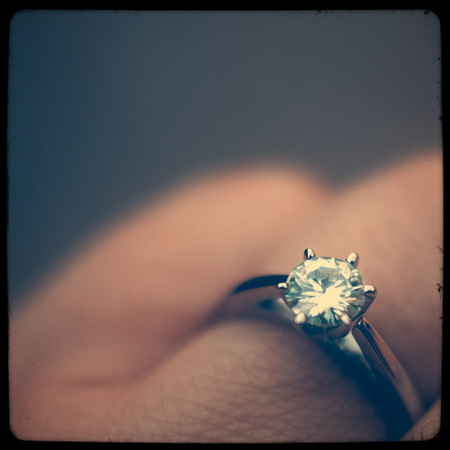 4. Safe place
If you do need to take it off – have a designated safe place for it at home. In a safe, a box, or a dish. Always put it the same place to stop panic or misplacing.
5. Think ahead
If you are doing something that will need you to remove your ring – going for a manicure for example – think ahead and deposit your rings in the safe place before leaving the house. Will help avoid a point two situ.
6. Does it need a holiday?
If you are going somewhere a bit dodge on your travels – do you need to take it with you?
You can always do a Jolie and leave your ring at home
, trading it for a simple plain band so not to draw attention. Leave it somewhere safe at home. Like a safe.
7. Protect against damage
Avoid losing stones by keeping on top of the maintenance of your ring. Have it serviced every year by the jeweller, clean it regularly (always in a bowl – never in the sink) and every month just take a moment to tap it close to your ear to see if you can hear any rattling. If you can – take it to the jewellers straight away.
8. Insure it
Just in case the worst happens – make sure you have insurance for your ring and keep the insurance documents somewhere safe. You never know.
And for all those worried – Kelly Clarkson did find her ring. Happy Days.
For all of the concerned fans I FOUND MY RINGS!!! Seriously, panicked in my head all night long .....so did Brandon haha!

— Kelly Clarkson (@kelly_clarkson) June 9, 2013
8 TIPS FOR CHOOSING THE PERFECT WEDDING DRESS
BLAKE LIVELY BAKES A GOATS' CHEESE PASTRY FOR DIN DINS
IS CAROLINE FLACK ENGAGED?