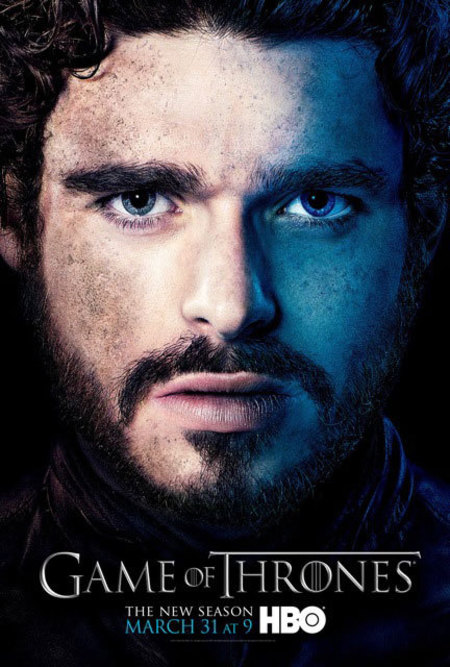 If you watched episode nine of the third series of
Game of Thrones
last night you're probably still in a state of shock. Seriously, what the hell happened?!
The episode entitled
The Rains of Castamere
once again proved that George R R Martin isn't afraid to kill off some of our most beloved characters.
*SPOILER ALERT*
The episode started off fairly normal in terms of
Game of Thrones
; Daenerys Targaryen acted all surly with her new beefcake, Arya Stark continued to play the tough girl/boy and Robb and Catelyn Stark were busy trying to make amends with caretaker Filch, eerrr, we mean Walder Frey.
Everything seemed pretty honky dory until the wedding scene morphed into a blood bath massacre. Basically Robb Stark had refused to marry one of evil Walder's daughters because he fell for battleground nurse Talisa. To save the war effort Robb roped in his uncle, Edmure Tully, and asked him to marry Walder's granddaughter Roslin Frey.
Thinking this would heal the rift between the Stark and the Frey families, long suffering mum Catelyn Stark soon notices that things aren't quite right, especially when the doors are locked and the man next to her is wearing thick chain mail armour.
Michelle Fairley who plays Catelyn was amazing as the desperate mother trying to save another one of her children from impending doom. But it was the blood, gore and shockingly violent death scenes that made the last five minutes of the episode frighteningly intense.
Ohhhh and little Arya Stark...so close and yet so far! What more can that poor girl be expected to endure?
Here's what the Twittersphere had to say...
Holy Mother of F. I have nothing quippy or cool to say re: Game of Thrones. I'm shattered. #GoT

— Elizabeth Banks (@ElizabethBanks) June 3, 2013
OMG #GoT WTF

— Jason Biggs (@JasonBiggs) June 3, 2013
i dont know what just happened in game of thrones. i'm in shock.

— Ed Sheeran (@edsheeran) June 3, 2013
Wow. Really @gameofthrones ? I don't know if I actually want to watch you anymore after that. I'm actually kind of annoyed. Boo.

— Liam McIntyre (@Liam_J_McIntyre) June 4, 2013
Just caught up on Game of Thrones and it ruined my life a little!

— Lucy Spraggan (@lspraggan) June 4, 2013
Check out more amazing reactions here...
What did you think of the episode?
GOK WAN SHOWS OFF HIS CUTE DOG, DOLLY
LISTEN: MILEY CYRUS DEBUTS 'WE CAN'T STOP'
CARA DELEVINGNE LOVES HARDCORE PAWN