We don't always get excited every time a new phone launches in the UK, but we do get intrigued when gadgets, gizmos and apps promise to make our lives easier and more interesting.
We're hailing these five gadgets our 'techie trailblazers' of the month. Okay, so maybe the hardcore tech enthusiasts out there will shout at us for choosing the 'wrong' things, but we're looking for cool, life altering gizmos not complicated computer innovations!
Have a look at the gadgets that have inspired us below...
The Touch Keyboard for the Microsoft Surface Tablet
Everything in the computer world is gearing towards tablets, but touch screen typing can be a drag. That's why we're impressed with this ultra-thin
Touch
keyboard for Microsoft's tablet-come-laptop
The Surface
. Amazingly it's just 3.25mm thick and weighs less than 0.46lbs. It's attached by magnets and can also be used as a protective spill-resistant cover.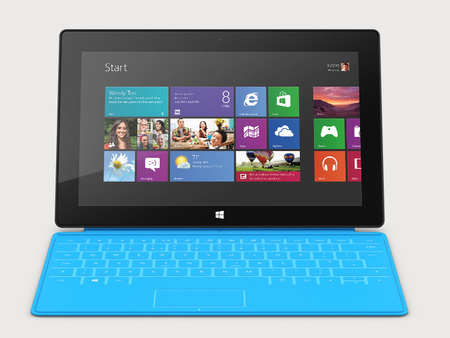 Xbox SmartGlass
Aaaah the Xbox, the gadget that steals your boyfriend and all his money. Thankfully Xbox SmartGlass technology allows you to watch a movie on on your TV, while simultaneously controlling what you're watching via another device, like your phone or tablet. So what does this mean for the average human? Well, specially formatted films (like The Dark Knight Rises) have interactive companion guides and behind the scenes commentary that go to your tablet as your watching the movie. Plus, you can start watching a movie at home, carry on watching it on the bus via your phone (which will automatically load it at the right scene), and finish it off at a friend's house via their own Microsoft device - using your own log-in details. Nifty.
Blackberry Z10 Story Maker
Choose photos, choose music, choose filters and Blackberry Story Maker will make an awesome video for you that you can share via social media. See just how easy it is in the video below...
Samsung Galaxy S4 Eye Scrolling
This clever new feature of the Samsung S4 means you can look at the screen and scroll up or down the page simply by moving your eyes and tilting the screen. The phone also has
Smart Pause
that recognizes when you're watching video and pauses the clip if you turn your head away from the screen. The video then resumes once you're back. Finally there's Air Gesture - a way of scrolling through photos and menus without even touching the screen.
The apple iWatch and Google Glass
So technically these aren't even available yet, but insider sources are getting very very excited. Google Glasses are in the testing stage and lots of key industry experts have been ranting and raving about them online. Check out the video below to see this 'augmented reality' in progress. The apple iWatch is even more of a mystery, but we reckon checking emails, answering calls and Facebooking on our wrists is seriously secret agent cool!
What do you think?
MICROSOFT LAUNCH THEIR NEW CONSOLE XBOX ONE
HESTON BLUMENTHAL'S SAGE KITCHEN APPLIANCES
YAHOO! GEAR UP TO BUY TUMBLR