The 1940s was dominated by war, so marriages happened quickly to coincide with military leave. The production of lace was halted and silk was taken for military parachutes leaving brides in a wedding dress pickle.
Due to the rationing of clothing and footwear most brides had to make-do-and-mend and recycle the clothes of friends and family. If you want to channel the spirit of the 1940s for your big day, take a look at these top tips from the pages of
Style Me Vintage: Weddings
...
1. The wedding dress
Due to the restrictions of wartime, dresses had little or no embellishments and came in flattering shades of ivory, blush and champagne. Most brides wouldn't have been able to afford or access a new dress, so they would wear their military clothing or a simple day dress. Wedding suits were also popular during this time (think SJP in the
Sex and the City
movie) with a narrow knee length skirt, jacket and seamed stockings.
2. The silhouette
Start with broad shoulders (slightly padded) and sleeves that taper towards the wrists. Peplums and draped jersey dresses were also popular during the decade, while sweetheart necklines, long sleeves and covered backs were crucial. Modesty, subtlety and simplicity should be your key words - anything ostentatious, like long trains were frowned upon.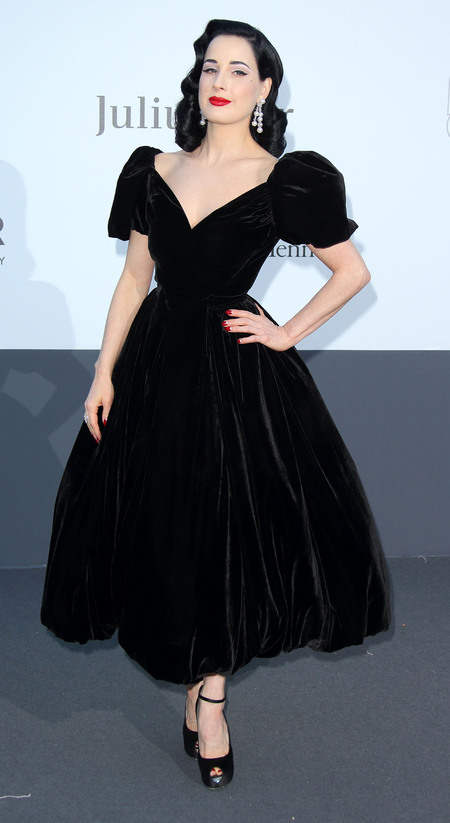 3. The accessories
Elaborate hats and headpieces were the order of the day, but everything else was kept simple and sophisticated. Opt for small windflower bouquets, a simple white clutch bag and a lucky horseshoe charm necklace - no 40s bride would be without a horseshoe!
4. Headgear
The decade saw a big change in hat and headgear fashions. Inspired by the 1947 marriage of Queen Elizabeth II to Prince Philip, brides mimicked sparkling crowns with high hats, stiff lace, wax flowers and beading. Short veils and tiaras were also popular.
5. The shoes
Wartime brides couldn't just go out and buy a new pair of heels - shoes were rationed as part of the war effort. Slingback mid-heels with a peep toe were the most common, but luckily for modern brides this is very similar to modern ballroom dancing shoes. They come in nude, white and bold colours and they're incredibly comfortable (so dancers don't get blisters). Check out Rachel Simpson Shoes for some great options.
6. Red lipstick
1940s bridal make-up consisted mainly of bold bright red lipstick, a subtle blush and pared down eyes. MAC's Lady Danger lipstick has a 40s inspired tinge of orange, making it one of the most authentic shades on the market for modern vintage seekers. Fluttery eye lashes were the next big essential for 40s brides, so make the most of the falsies on offer on the high street.
7. Channel 40s hair icons
Rita Hayworth, Vivien Leigh, Betty Grable, Lana Turner and Veronica Lake all set the trends for 40s hair. Think big curls piled high on the head, or victory rolls à la Dita Von Teese. Imagine the ultimate bombshell hair and you'll be on the path to success.
8. Try the peekaboo style
If you have shoulder length hair or longer, part your hair to one side and curl your hair all over with a large tong. Brush the curls through on the thicker side to create cascading waves that fall over the eye (hence the peekaboo nickname) and clip the thinner side back behind your ear. Show your stylist this picture of Kelly Brook for a modern take on the 40s trend.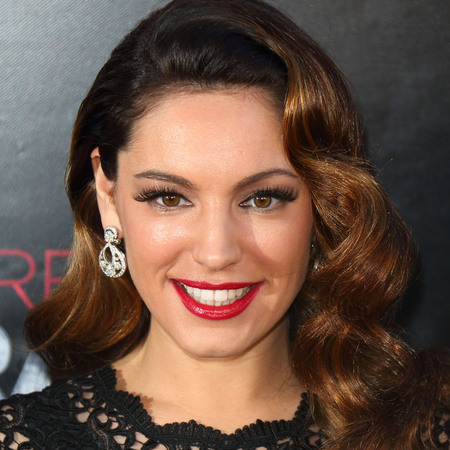 9. Think homemade
War rationing didn't make holding a fancy reception easy, so bring some thrifty homemade techniques to your wedding inspired by our resourceful ancestors. Opt for a marquee instead of a glam hotel with buffet tables, flowers in jam jars, vintage tablecloths, homemade Victoria sponge wedding cakes and bunting - street party style. Old suitcases, oil lamps and typewriters will help to give your big day a kitsch vintage twist.
10. The perfect 40s reception
Put some Billie Holiday, Frank Sinatra and Ella Fitzgerald on the playlist or hire a swing and jazz band who can get your guests doing the boogie woogie in no time.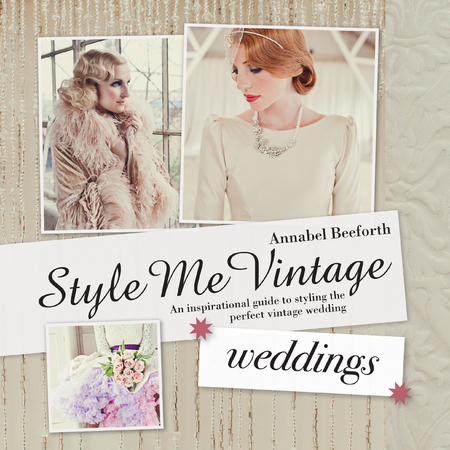 For loads more advice snap up a copy of
Style Me Vintage: Weddings
by Annabel Beeforth, published by Pavilion, available on
amazon.co.uk
. Photography by Joanna Brown.
Will you be having a vintage wedding?
ELIZABETH TAYLOR'S 1950 WEDDING DRESS GOES TO AUCTION
CLAIRE PETTIBONE SPRING 2014 WEDDING DRESS COLLECTION
MIRANDA KERR SENDS JENNIFER ANISTON HER PANTS