Beyoncé and Jay-Z came third on Forbes list of the most powerful couples in the world, ahead of Brad Pitt and Angelina Jolie, and the Queen and Prince Philip.
Coming behind the Obamas and Bill Gates and his wife Melinda, it makes them the most powerful pair in music. Forbes said the couple's close relationship with the President and involvement in his campaigns, alongside their huge world tours made them the 'first couple of music.'
Beyoncé is currently on a 65-date world tour, and Jay-Z is set to tour with Justin Timberlake this summer where he will take home an estimated $100,000 a show.
Michelle and Barack Obama topped the list due to the first lady's popularity with the American public, with Forbes saying, 'she's more popular than her husband.'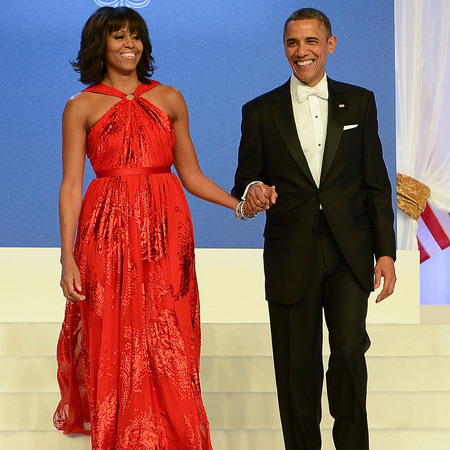 Not threatened by his wife's popularity, Obama said to her in his election victory speech, 'I have never been prouder to watch the rest of America fall in love with you too as our nation's first lady.' Too cute.
Brad Pitt and Angelina Jolie also made the list alongside Portia de Rossi and Ellen DeGeneres.
Other celebs included Tom Brady and Gisele Bundchen, and Gerard Pique and Shakira.
They sat alongside famous faces from the world of fashion, business and politics including Patrizio Bertelli and Miuccia Prada, Barry Diller and Diane von Furstenberg, Queen Elizabeth II and Prince Philip.
Others on the power list included Melinda and Bill Gates, Hillary and Bill Clinton and the CEO of Yahoo Marissa Mayer and husband Zachary Bogue.
10 BEST CELEBRITY WEDDING DRESSES...
CAROLINA HERRERA SPRING 2014 WEDDING DRESS COLLECTION
SHOP! JESSICA ENNIS' MONIQUE LHUILLIER WEDDING DRESS