It looks like the battle is on between
Rihanna
and Beyoncé to see which of the singers is the queen of pop.
After Bey's controversial new track
Bow Down
hit the web, it's become clear that Queen Bey is planning to "reclaim" her throne with her new album.
But it seems Rihanna isn't going to give up her reign just yet after 4Music named RiRi the most influential pop star in the UK.
Rihanna was pretty happy with the news as she screen grabbed the news and captioned it, "I only know how to be number 1!! I could use a challenge... "How dat feel down there on ya knees, Huh?!" #gunzindamuthaphuckinair #allmyniggazNavi #controlyourheauxz #heauxzBeAckinUp #yesimeantAckin #catchup #phuckyouandyourtimedifference #walkupindisbitchlikeiownaheaux #fromtheleftsideofanisland #tuh"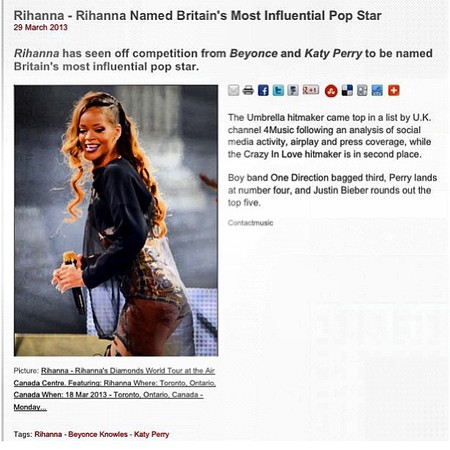 RiRi then posted up a snap of the article saying, "It's only March people... #2013isalreadyowned #staytuned #MoneyOvaBitchez "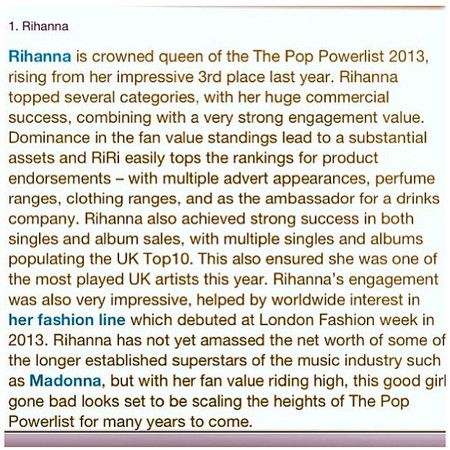 Well she isn't known for being shy with her words is she?
We wonder what Jay-Z has to say about all this!
Reckon Rihanna was making a not-so-subtle attack on Beyoncé?
RIHANNA DUETS WITH CHRIS BROWN ON HIS NEW ALBUM
BEYONCE TO HEADLINE HISTORICAL GUCCI CHARITY CONCERT
SAY HELLO TO NEW RAP ARTIST IGGY AZALEA