When the trend for cheese gripped the wedding scene in 2006, most commentators thought it would be a passing fad. But cut forward to 2013 and the popularity of stacked Stilton and cheddar is still going strong, with over two dozen British companies creating cheese wedding cakes for adventurous foodie couples up and down the country.
Here are four reasons why it's worth considering a tiered cheese masterpiece for your big day...
Different:
Cheese wedding cakes offer a tasty alternative to the traditional fruitcake or vanilla sponge. They work well alongside fresh fruit platters at romantic outdoor weddings or suit smaller occasions with a traditional British twist.
Nice to look at:
Often appearance is as important as taste with a traditional wedding cake but cheese wedding cakes can be just as pretty. There are thousands of colour combinations you can create and lots of decoration options like fruit, flowers, feathers and ribbons.
Unique:
If you look around you will find most companies offer a bespoke service as well as ready chosen options so if the groom is Scottish and the bride is Welsh you can have a cheese to represent everyone – the only question is which will be more popular?
Cost effective:
The average cost of a cheese wedding cake is similar to that of a traditional wedding cake but if the cutting of the cake comes straight after the wedding breakfast it can then be the cheese course. That's two items on your wedding planner ticked off for the price of one centrepiece.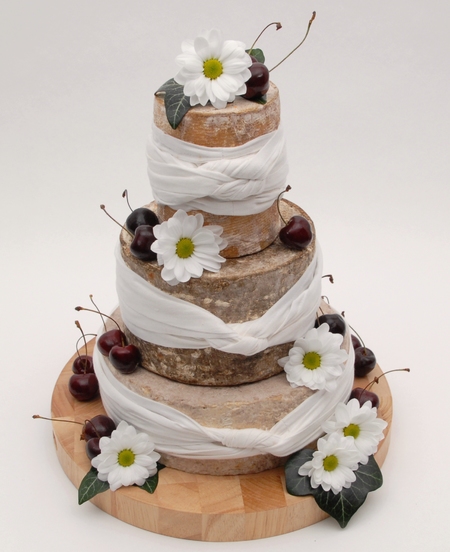 5 tips to help you choose the perfect cheese wedding cake...
1.
Allowing 100g of cheese per person will give you more than enough cheese for your guests and if you are incorporating your cheese wedding cake into a buffet or sit down meal you could half that quantity.
2.
A cheese wedding cake should provide a balanced cheese board, put it together with your guests in mind not just your personal favourites.
3.
Avoid particularly strong smelling cheeses, especially in summer. If a strong cheese is a must check your venue is sufficiently air conditioned.
4.
Look at all your options - you could have a traditional cake in the daytime and a cheese cake in the evening or you could put a mini cheese wedding cake on each table saving the costs of floral centre pieces.
5.
Always try to look at the sizes of the cheese you want to use and make sure that the cheese is evenly graduated - to get the traditional tiered effect. Also, think about the colour combinations of the cheese you use to make sure it fits with theme of the rest of your day.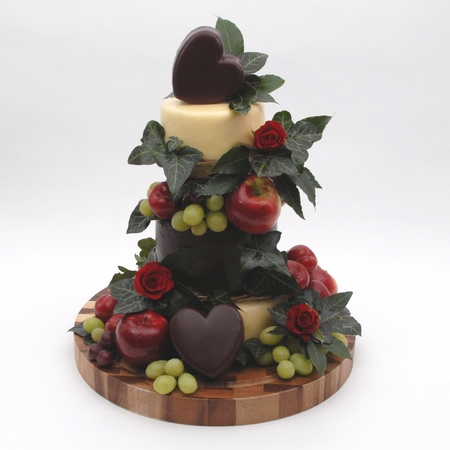 Most people prefer their wedding cake to represent a traditional cheese board and then have a few unusual cheeses to make it a little different. Popular choices include: Cornish Yarg; Blue Stilton; Mature Cheddar; British Brie or Camembert; Creamy Lancashire, Cheshire, Wensleydale with Cranberries, White Stilton with Apricots and Red Leicester.
Here are a selection of cheese wedding cake providers you could try...
•
The Big Cheese Cake Company
•
The Wedding Cheese Cake Co
•
The Liverpool Cheese Company
•
The House of Cheese
•
The Cheese Factor
•
The Cheese Shed
• Wensleydale Dairy products Tel. 01969 667664
There are over 700 different named cheeses produced in Britain, to find out more visit the
British Cheese Board website
.
What do you think about this wedding trend?
BRIDAL COVER-UPS FOR SNOW DAY WEDDINGS
BRIDAL SHOP! FLORAL CHORUS WEDDING NECKLACE
OLIVIA WILDE TO DESIGN HER DREAM WEDDING DRESS