We are all waiting to finally hear some new music from Beyoncé so it's no surprise fans got excited after a "leaked" track list for her upcoming album began making waves online.
It is reported that one of the men from Stargate (who helped her produce hits like
Irreplaceable
) accidentally tweeted a picture of the track list which also included details of release dates for her upcoming album.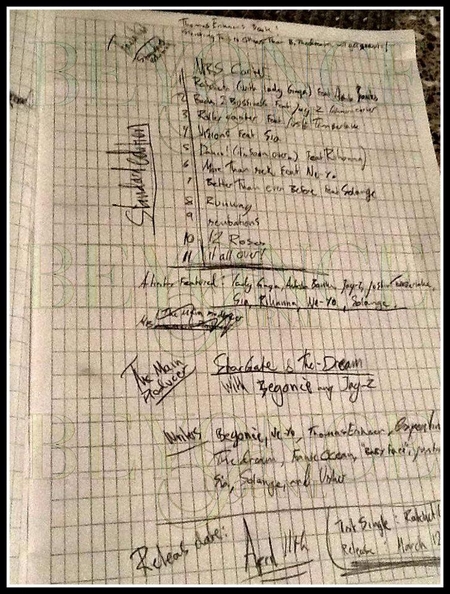 Pretty big "accident" but we'll ignore that part for now.
The picture indicates that the album is called
Mrs. Carter
which would makes sense seeing as that's the name of her
upcoming world tour.
According to the leaked pic, the album will be released on 11 April 2013 and including more collaborations that you can ever wish to hear from Queen Bey!
The first single is rumoured to be Ratchet ft Lady GaGa and Azealia Banks and will be release on 12 March 2013. As in next week!
Check out the full track list below...
01. Ratchet (feat. Lady Gaga & Azealia Banks)
02. Back 2 Business (feat. Jay-Z)
03. Roller Coaster (feat. Justin Timberlake)
04. Visions (feat. Sia)
05. Dance (I'm Soon Over) (feat. Rihanna)
06. More Than Sex (feat. Ne-Yo)
07. Better Than Ever Before (feat. Solange Knowles)
08. Runway
09. Sensations
10.12 Roses
11. It's All Over
Do you think the image is fake?
BEYONCE HEADLINING V FESTIVAL
WHO DID TAYLOR SWIFT SAY SHOULD GO TO "HELL"
WATCH: RIHANNA DEBUTS "STRIPPER" CHOREOGRAPHY