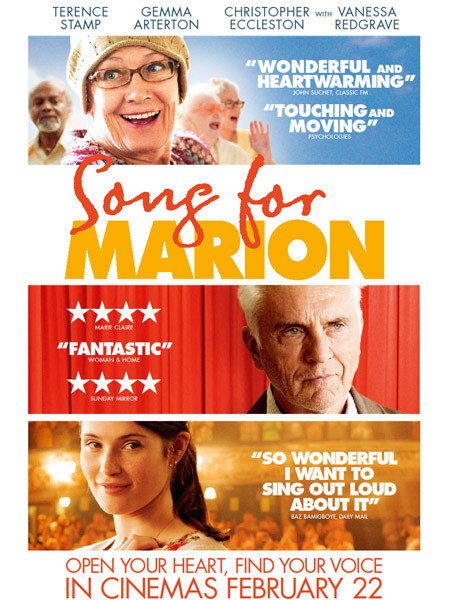 Watch
Song For Marion
for free before it hits cinemas on 22 February 2013!
Song For Marion
is a hilarious and wonderfully moving story of a loving marriage between grumpy pensioner Arthur (Terence Stamp) and the ever-cheerful Marion (Vanessa Redgrave).
Arthur can't understand why his wife Marion would want to embarrass herself singing silly songs with her unconventional local choir. But when Arthur builds a touching relationship with Elizabeth, the Choir Director (played by the fabulous Gemma Arterton), he realises that it is never too late to change.
Song for Marion
is fun for all ages and guaranteed to have mothers and daughters singing in the aisles.
You can see the flick for free! Just click
here
and use the code 654564 to claim your tickets.
Song for Marion
Previews are on 12 February at 6 for 6.30pm at the following Vue cinemas: Birmingham, Cardiff, Cheshire Oaks, Edinburgh Omni, Finchley Road, Islington, Leeds Light, Manchester Lowry, Norwich, Sheffield and Shepherds Bush.
Song For Marion
is in cinemas on
22 February 2013
.
Watch the trailer
here
To download tickets simply click here:
https://www.showfilmfirst.com/pin/654564
Terms and conditions: Tickets are subject to availability and will be allocated on a first come, first served basis via
www.showfilmfirst.com
. Each applicant may claim up to two tickets. Guests should have ID available, in name printed on ticket, if required.
The tickets are not for resale. No cash alternative. No late admittance. The cinema reserves the right to refuse admission. In the event of a dispute, the cinema manager's decision is final. For full terms and conditions visit:
www.showfilmfirst.com
What do you think? Leave a comment below to
be in with a chance of winning a £100 goodie bag
FILM YOU NEED TO WATCH: I GIVE IT A YEAR
TOP 7 COMEDIES WE CAN'T WAIT TO SEE
DVDS WE'RE WATCHING THIS WEEK