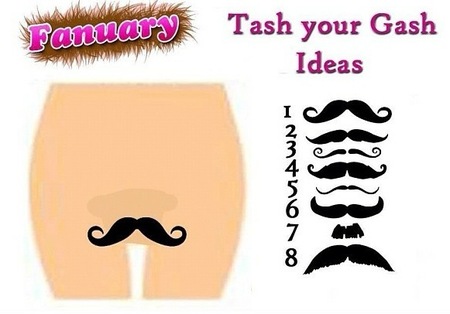 It's nearly the end of Fanuary – the girl's version of Movember, where women let their lady garden's grow wild to raise money for cervical cancer charities.
The aim is that girls should grow, sculpt, and colour their short and curlies to raise awareness and cash.
Not to be outdone by the boys, followers have even been going down the muffstache route with a 'tash your gash' campaign. Personally, we quite fancy having a go at the Tom Selleck next year...
The new global movement has been a bit quiet on the uptake, but through word of mouth (there's a pun in there somewhere surely?) we expect Fanuary to grow and grow over the next few years.
If you've been taking part, good on you and that welcoming wax is in sight!
Here's what people are saying…
Doing this #FANUARY thing. It looks like a werewolf eating corned beef.

— CourtneyCarlson (@corks26) January 24, 2013
Tonight I spent half an hour shaving a mustash into my lady garden. Gotta support that #Fanuary

— Ellie Probert (@ellieprobert) January 21, 2013
Now that January's nearly over I have stop fanuary :( aww I was starting to like my Jackson 5 :(

— Emily Lowth (@EmilyLowth) January 26, 2013
Following the movember example it appears "fanuary" was cervical cancer awareness month - great name which deserved more pick up

— Miss Cakehead (@Miss_Cakehead) January 27, 2013
With all of this #fanuary nonsense going on, im kind of glad ive had a fairly slow sexual month. #bushinhell

— Bēēniē (@_D_Sweeney) January 21, 2013
Seen as us lads attempt Movember with much enthusiasm I can't understand why girls don't embrace Fanuary the same way #senseofhumourfailure

— Jordan King (@JordanKing2809) January 21, 2013
Would you take part in this next year? Leave a comment below to
be in with a chance of winning a £100 goodie bag
I LOVE MY MUFF SKIN CARE PRODUCTS ARE HERE
VAJAZZLE TREND CAUSES BOOM IN A&E VISITS
HOW TO TRAIN FOR A TRIATHLON