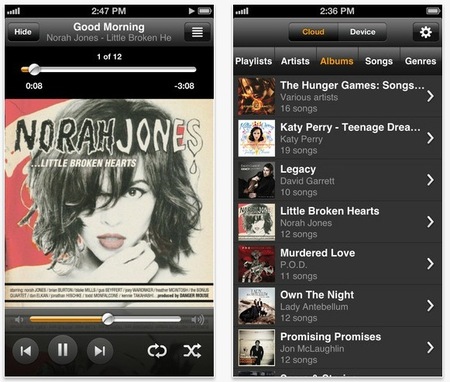 Amazon
has launched a new mobile web store for MP3 tracks that is specially optimised for iPhone and iTouch.
In a declaration of digital war on iTunes and their music monopoly, the new HTML MP3 web store offers 22 million tracks via a specially formatted mobile website.
When you buy music from Amazon, it will be automatically transferred to your Amazon Cloud Player app, which offers 5GB of free storage.
This app is free to download and available on the iPhone, iPhone touch, iPad, Kindle Fire, Android smartphone or tablet, Sonos or any web browser, so you can play it on any of your devices.
This means that you never have to sync your devices as it will all be magically stored in cyberspace and your music downloads will not impact on your storage allowances.
In an act of flicking the v's at Apple, this web store and app combo circumvents Apple's purchasing guidelines which means that Amazon won't have to pay it's rival the 30% fee that Apple demands from all purchases made through apps.
The online retailer have developed the MP3 store to operate seamlessly on Apple's web browser and offers everything you have come to expect from Amazon, including personalised recommendations, bestseller lists and user ratings.
With a whole heap of free music, 79p singles and albums under £5, Amazon are also hoping to undercut iTunes on price too.
Steve Boom, Vice President of Amazon Music explained, 'Since the launch of the Amazon Cloud Player app for iPhone and iPod touch, a top request from customers has been the ability to buy music from Amazon right from their devices.
For the first time ever, iOS users have a way do that – now they can access Amazon's huge catalogue of music, features like personalized recommendations…and they can buy their music once and use it everywhere.'
But will you be switching from iTunes? Leave a comment below to
be in with a chance of winning a £100 goodie bag
LOST LUGGAGE IS A THING OF THE PAST
LOW TECH: TURN YOUR IPHONE INTO AN IPAD
WHAT IS IT? PEBBLE SMARTWATCH