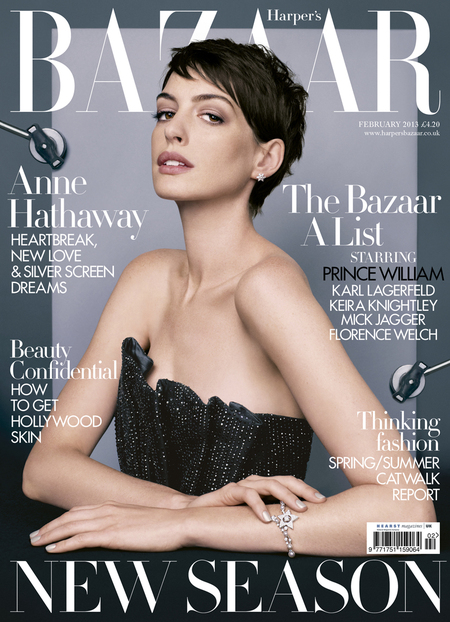 Anne Hathaway
looks stunning on the cover of the February issue of
Harper's Bazaar
magazine as she talks for the first time about her new husband and the joyride of falling in love again.
Tthe 30-year-old newly wed gushed about her new man as she continues to promote her new flick,
Les Misérables
, in which she plays heroine Fantine.
While her character doesn't have the best life, Anne couldn't be happier with her at the moment.
Speaking of her new husband she said, "He walks into a room, and I light up, I can't help it.' 'A few days into it [filming
Les Misérables
] I said 'I'm having too much fun, I just want to play with you and I need to be really sad right now'."
The actress knew right away that she had the met the one right away as she recalled saying to her friend, "[To her friend] 'I'm going to marry that man.
"I think he thought I was a little nuts, which I am a bit, but I'm also nice.... I've never really talked about this, but I was just very honest with him. I knew from the second I met him that he was the love of my life.
"I also knew that I couldn't have met him at a worse time... I took my trust out for a ridiculous joyride with him.'
2012 saw the actress sex up her image when she hit the cinemas as catwoman in
The Dark Knight Rises
but Anne feels she's having to battle was a "good girl" image that has been placed to her name.
She said, "I'm not Rihanna; I'm not cool. When people come up to me in the street, they often want a hug not a photo, and they want that because they like my work. For a long time it was me and her [her manager] against the world.
"I was seen as this bizarre-world good-girl cartoon that I in no way identified with – very vanilla, very sweet, very accessible and not interesting. I had no grit, no sex appeal.'
We're sure no one is thinking that any more Anne!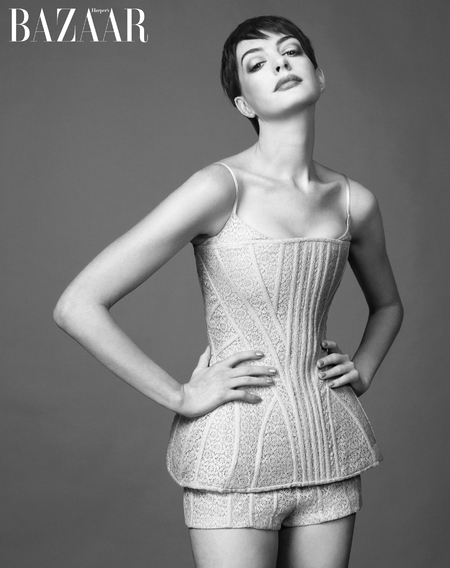 Read Anne's full interview in the February issue of Harper's Bazaar which is on sale 3 January 2013. Also available as a digital edition.
What do you think? Leave a comment below to
be in with a chance of winning a £100 goodie bag
ANNE HATHAWAY INSPIRED BY SUSAN BOYLE
WATCH: ORIGINAL SUGABABES PERFORM LIVE FOR 1ST TIME IN 10 YEARS
KATIE HOLMES AND JAKE GYLLENHAAL NOT DATING