Nicki Minaj
's Christmas party guests nearly got a right eyeful thanks to this very revealing catsuit!
Nicki, 30, was the guest of honour at a lavish party held at Webster Hall in New York City.
The 'Superbass' star was certainly the centre of attention, sporting a super shiny black bob, chunky belt, studded shoulder pads and a huge pair of... ahem, red and black sunglasses.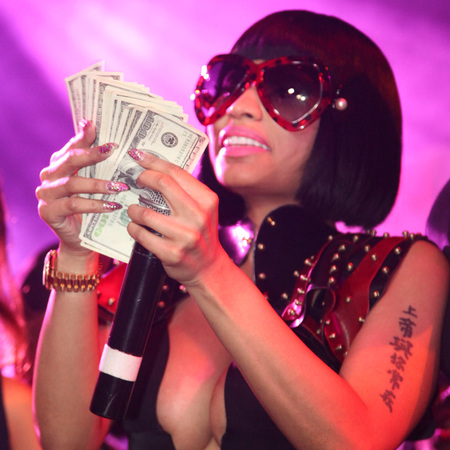 The Christmas Extravaganza is not the only party Minaj will be hosting this festive season. It's also been revealed that she will be hosting a New Year's Eve celebration at PURE nightclub in Las Vegas.
We're loving the look Nicki, but that lycra leaves little to the imagination. Not to mention the conundrum of where to keep your car keys... yikes!
What do you think of Nicki's style? Leave a comment below to
be in with a chance of winning a £100 goodie bag.
JESSIE J: "DO I CUT MY FRINGE BACK IN BEFORE I SHAVE MY HEAD?"
RIHANNA GOES BLACK AND GOLD AT LAKERS GAME WITH CHRIS BROWN