The average 18-34 year old in the UK spends around £415 on Christmas, according to
MoneySupermarket.com
, with one in five admitting their festive shopping puts them into debt.
So, donning our best
Christmas jumpers
and with bags of festive cheer - we bundled ourselves off to
Poundland
to see if we could 'do' Christmas for under £30 - presents, food,
Christmas decorations
, the lot.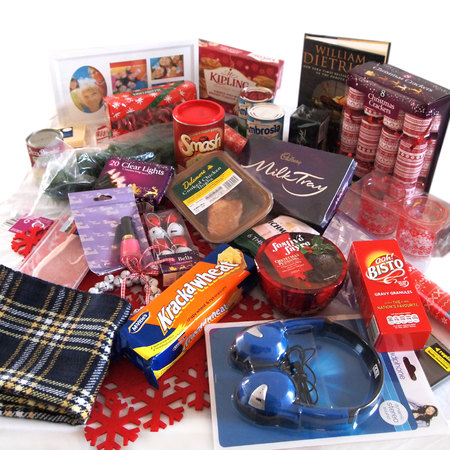 Christmas on a budget - the mission
To buy:


Christmas decorations


Presents for Mum, Dad, Grandparents, brother, sister and a partner


Food for a Christmas dinner for two people


All for under £30 - which is just over the average cost of one present this Christmas (£28.70).
But can you do the entire of Christmas for just over the same cost of one gift?
Why yes, yes you can…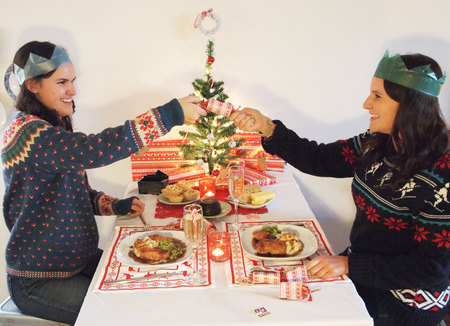 Cheap Christmas decorations
When it comes to decorations and things like crackers, you can't go wrong with being
seriously cheap.
With
Waitrose own crackers
setting you back £40 – we thought our
Poundland crackers
were a find at, you guessed it, £1.
Place mats, a tree, lights a wreath we got it all. OK the tree was tiny, but we challenge you to look at it all done up and not feel festive.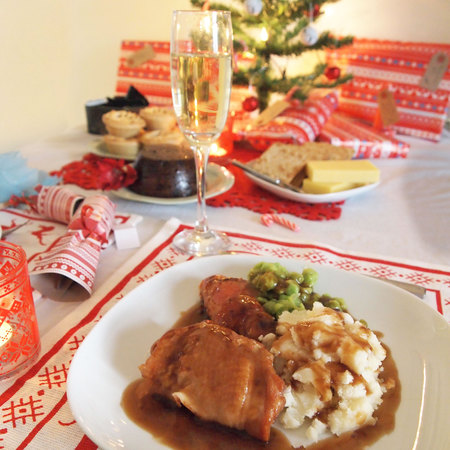 Christmas dinner
We successfully managed to pull off a
three course Xmas feast
from our Poundland finds, including some big name brands.
Here's our menu:


Chicken thighs


Bisto Gravy


Smash


Mushy peas


Fox's Christmas pudding


Mr Kipling mince pies


Ambrosia custard


Cheese and crackers


After Eight Mints


Sure it was lacking in the veg department, but if you could add some
fresh vegetables
from elsewhere the meal could really work – especially if having a 'friendmas'.
How much we saved vs. other supermarkets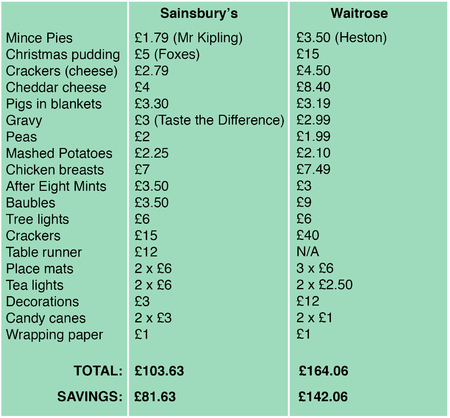 Christmas Gift Ideas
The best finds on our
gift hunt
were big name make-up brands, such as Calvin Klein and Revlon (perfect for mum or sis),
best-selling books
and of course a box of Milk Tray – which were a fraction of the supermarket price of £6.
We bought:


Calvin Klein eye shadow


Revlon nail varnish.


Milk Tray chocolates


William Dietrich's The Barbary Pirates


A photo frame


Donnie Darko DVD


A plaid scarf


Headphones


How our cheap presents stacked up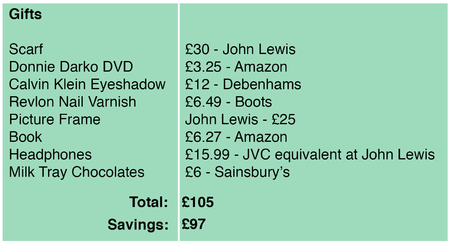 So what was the grand total? Drum roll...
We saved £239.06
Proving that the festive season doesn't need to bankrupt you. Now that is a very merry Christmas
Thoughts?
Tweet us @handbagcom
HOW TO HAVE A CHEAP CHRISTMAS
CHRISTMAS HAMPER IDEAS & FOOD GIFT RECIPES
EVERYTHING YOU NEED FOR CHRISTMAS