It looks like
Rob Kardashian
and Rita Ora have not split up on friendly terms after Rob accused Rita of cheating on him with "20 dudes".
The secretive couple have been linked together for the past year but Rob attacked his ex after their recent break-up.
In a string of tweets - which he then went on to delete - Rob wrote,"She cheated on me with nearly 20 dudes while we were together, I wonder how many she will sleep with now that we apart. But I mean 20?!"
"How can a woman who is so busy trying to start her own career have time to be with so many dudes all while in a relationship?
"I'm actually disgusted a woman could give up her body to more than 20 dudes in less than a year's time while trying to start a career".
It's shocking every single time we read it! Those are some pretty big accusations to throw around on Twitter.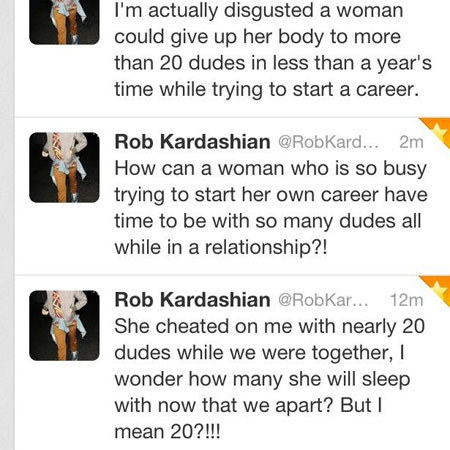 We guess there must be some truth to it as Rob's sister, Khloe Kardashian wrote, "Cheaters never prosper @RobKardashian ill be home today... Try and smile little brother."
Rita has yet to respond to Rob's allegations and hasn't tweeted anything since announcing her first solo tour.
We can't even guess what's going to happen next. Will Kanye and Kim have to chose sides? Will this be part of the next season of
Keeping Up With The Kardashians?
What do you think? Leave a comment below to
be in with a chance of winning a £100 goodie bag
RITA ORA IS SINGLE AGAIN?
TAYLOR SWIFT AND HARRY STYLES GO PUBLIC?
MIKE TYSON FOUND BRAD PITT IN BED WITH HIS WIFE