If you know your ex is also going to be a guest at a wedding - the battle is on. This situation warrants a 'you go girlfriend'...
Come with back-up
Take a tip from Nick in
New Girl
and take a hot date with you to show how you have moved on to better, and buffer, things. Ouch.
Don't get drunk
Drunkenness and exes are not a good combination. You will end up crying, picking a fight, or trying to do the Beyoncé
Crazy in Love
bum dance in front of them. None of which are recommended.
Be prepared
Plan the most perfect outfit, including all accessorises. Practice your make-up just and think if you will need a coat. That's what you will arrive in and first impressions count.
Prepare a soundtrack
Get ready with some divas. We recommend Christina, Cher, Britney, Destiny's Child.
Think with your head
Book a blow-dry for the morning. Bouncy hair is the root to all one-upmanship.
Best foot forward
Break in your shoes and invest in some gel pads. Do not, we repeat, do not, take them off and carry them at any point. Fail.
Prep your survival kit
Take a survival kit to ensure you cope with all situations that might thwart you on the day. We recommend packing:
Double sided tape for any dress disasters
Deodorant. The smelly ex loses
Perfume. See above
Make-up essentials for reapplying
Tissues. Just in case
Paracetamol. Don't let a headache hamper you
Blotting tissues. A shiny face is not a winning face
Mints or breathe freshener. Obviously
Do not over do it
Be relaxed. You do not want to be trying to do extra sexy dancing, overly loud laughing with accompanying hair flicks, or making up elaborate lies about how amazing your life is. Being breezy is key.
Be courteous to his date
Be the better man. Introduce yourself politely, do not make snide comments and be friendly. Think nonchalant.
Do not eye stalk him
Completely forget he is there and enjoy your day. He will feel your eyes burning into the back of his head.
Avoid slagging-off situations
Do not engage with women looking for a bit of gossip. They will try and entice you into slagging off your ex, do not play ball. Take the high road.
Have fun
Be happy, relaxed and calm. The best way to show you have moved on is to hold your composure and radiate confidence.
Go forth and lay the wedding smack down. Fist pump!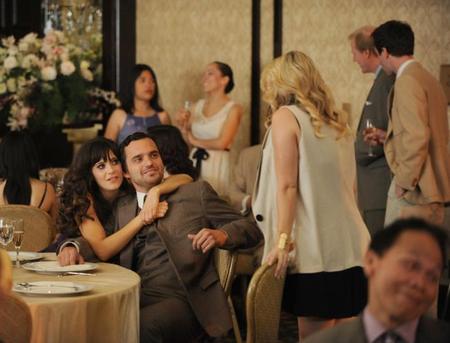 MILEY CYRUS PLANS THREE WEDDINGS
MAKE YOUR OWN RICE KRISPIE WEDDING CAKE
HOW TO BUY A VINTAGE WEDDING DRESS