If only a vintage wedding will do - then why not go all out and find yourself an original gown?
But finding a unique vintage dress is not quite as easy as heading to your local bridal boutique.
Time to enlist some expert help!
Celeb stylist, Zoe Lem, has dressed the likes of Myleene Klass and Cat Deeley, but her true passion is vintage fashion.
Having run her own vintage boutique - she has turned her attention to making sure the retro-seeking bride finds her perfect dress.
Check out all her knowledge...
Zoe's guide to buying a vintage dressYour figure
The key to buying any dress to begin with is finding a shape that suits your figure.
Don't get caught up in the romance. Quite often a vintage dress can look great on a hanger or mannequin but once around your curves it can be quite different.
Always try on, even if you have to do it over your clothes if at a market.
Sizing
Size can be deceiving and sometimes vintage dresses can look bigger than they are.
Ignore the sizing as size grading has changed so much over the years as well as the proportions. So, if it is a 14 it is more likely to be closer to a large 10.
A lot of vintage dresses were hand made so won't have any guide as to size or fabric make up so you can measure - so the best way is to just get it on!
Alterations
Remember things can be altered.
If the general idea of the shape works or fabric then keep an open mind as hems can be shortened, necklines lowered, taken in at the side seams, belts added there are lots of changes you can make to transform a dress to ensure it both flatters you and looks less period drama and more current.
Fabric
Check the fabric. A lot of dresses, certainly 1950's-1970's, were made with synthetic fabric - which is fine but you need to think about how a dress will feel as well as how it looks. Especially as at a wedding, you will be wearing it for a number of hours.
Synthetic fabrics can be sweatier, itchy and sometimes harder to clean.
Check for marks, stains or rips before you buy as there is rarely a returns policy on vintage - even in a shop.
Some stains may come out and there is sometimes the option of dying the garment depending on the fabric make up. Anything with elastic in not so easy.
Style it up
The dress is just the starting point; a base on which to build it up.
Belts, sashes, adding detail, colour, can all change the look of a dress quite quickly.
Have fun with it. Remember no one else will have the same dress as you, and enjoy trying different styles.
Be open minded and enjoy wearing a little bit of history!
Zoe Lem's Vintage Wedding Fair
takes place this Sunday 28 October in London. Tickets can be purchased through
www.ticketweb.co.uk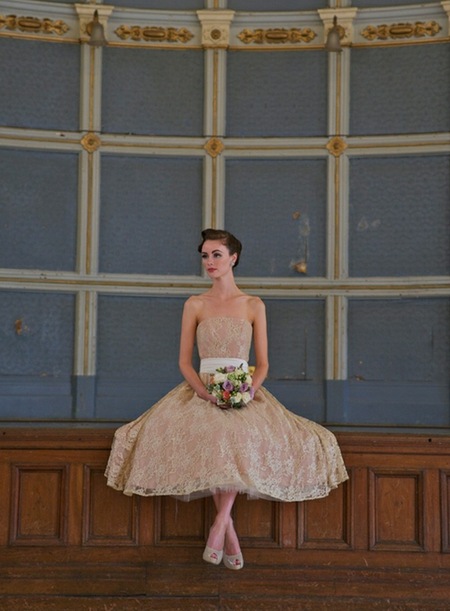 DETAILS OF JESSICA BIEL'S WEDDING DRESS
VERA WANG FALL 2013 BRIDAL COLLECTION
HOW TO PICK YOUR PERFECT WEDDING CAKE