Alec Baldwin feuds with My Name Is Earl
30 Rock star Alec Baldwin is having a furious war of words with the creator of My Name Is Earl.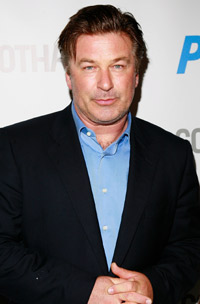 Actor Alec Balwin has become tangled in a angry war of words with My Name Is Earl creator Greg Garcia. The row started when Baldwin moaned in an interview that rival shows My Name Is Earl and Scrubs were, "done! They're cooked! Yet they do a one-hour episode of Earl." My Name Is Earl creator issued a scathing statement in response. "Baldwin sounds like a psychotic narcissist. Instead of blaming NBC, I think Alec should consider that some people in America may not want to watch a man who cusses out his own 11-year-old daughter on a phone message." It didn't take long for Alec to release a statement of his own. "My apologies to the cast and crews of My Name Is Earl and Scrubs. In my frustration with NBC's reprehensible promotion of 30 Rock, I took an unfortunate swipe at both of those shows and that was not cool. But, for Earl's creator, Greg Garcia, who referred to me as a "psychotic", I have only one question. Why are you Scientologists always rendering these medical opinions you aren't qualified to give?"