Rochelle Humes
has had a busy year to say the least.
The Saturdays finally bagged a Number One single with
What About Us
, Rochelle got married to JLS' Marvin Humes, The Sats signed a US record deal and bagged a reality show on E!
Oh and she just gave birth to her adorable daughter Alaia-mai.
We caught up the new mum as she prepares to get back to work and adjust to life a mummy.
Hi Rochelle, let's start with the single first - what do you love most about Gentleman?
I just love that it's different for us, it's upbeat and it's very tongue in cheek so it's going to be a fun one to perform over the summer.
Is that what drew you to the song?
Yeah absolutely, when we first heard it we were like 'This is great, this is exactly what we want to do.'
It doesn't take itself too seriously, its pure pop and its real fun.
Obviously What About Us did amazingly well, are you guys feeling the pressure to get the same results with Gentleman?
No i think it's good because What About Us is still heavily being played and there's lot of attention on What About Us so whatever happens it's just that we've still got a song that's doing so well on the radio still.
Obviously you've been busy between the two singles, how is motherhood treating you?
Yeah really good, i love it.
We loved your maternity style, was it easy to dress up the bump over the 9 months?
It's definitely not an easy thing. You're kinda dealing with this new thing that's attached to you and you don't really know how to dress it and things come up shorter and it was always a challenge but I just tried to do what i would usually do but just a pregnancy version of it.
Now Frankie is expecting, given her any fashion advice?
She's doing fine. Yes I've passed her some bras and some jeans. When you're pregnant you find some good stuf that you're like this is great so I've just passed a few of those.
How do you guys manage to be a pop band and so family orientated at the same time?
We just don't know anything different. We've always said that you don't have to sacrifice family life for the job.
Like if someone has a wedding to go to or something, we'll be like yes go. Sometimes you see these bands, like people on the big reunion, who don't have lives outside of it and i think that's wrong way to handle it.
So we've always made sure we always have time for our families whatever that means the family growing or the one you've already got i think it's important to make that time.
We got a hint of that in your reality show, Chasing The Saturdays, do you miss your reality show?
I'm not sure actually. I think obviously wouldn't have wanted it when I was so heavily pregnant but we got so used to it and it wasn't at all as invasive as it probably looks.
So yeah it's just became what we started doing. I just associate it with when we were in America because we did it when we were there.
Have you been able to watch The Wanted's reality show at all?
I haven't actually seen it yet but that's obviously because there's not so much time for tv for me as there used to be.
I need to see it, I've have it on
Sky Plus
so i need to watch it.
Will you guys ever do a joint show?
Oh God I doubt it. They would throw too many loud house parties and we have children now so unless they wanna do the night feed when they come in at four in the morning, I'm not sure.
That would be a sight to see...
No it wouldn't trust me.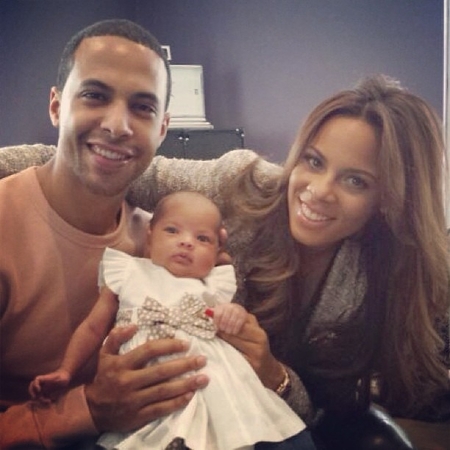 So can you tell us how you chose Alaia-mai's name?
It was one of those things that just sort of happened.
She was originally going to be called Alaia-Rai because I liked that but then she was born in May and Marvin had this thing for the name May and so that's how that came about.
I just really liked the name, I found the name when I was in America. I had literally just found out I was pregnant and I heard someone call their little daughter and she looked so cute.
And I was like, 'Oh i love that name.' It's actually an Arabic name and it means joyful. I told Marvin and he fell in love with it and then he chose the Mai."
So what do you think about Kim and Kanye naming their daughter North West?
I don't even know if it's true yet. You know what it's like, everyone has sort of run away with it. But I think that a baby's name is a baby's name.
Once upon a time I'm sure everyone was like 'OMG Rochelle's mum is going to call her baby Rochelle. They might have found that weird."
That's why I never told anyone my baby name because people will always put you off it until they know the baby.
Now Alaia's here and that's her name but if I told someone 'Oh I might call my baby Alaia', they might have been like 'Oh that's weird'.
Someone's always finds reasons to say something about it."
There's been a whole bunch of celeb babies born lately, have you started setting up play dates with Klay Rooney?
(Laughs) No. She's not really a celeb baby, she's just Alaia. She is sick and poos like the rest of them.
Has Alaia-mai met Aiofe-bell yet?
Oh yeah lots of times. I just really cute because Aiofe-bell is always coming in and saying "baby" to her, it's really sweet.
Any plans for baby number 2 yet?
Oh it's so soon. No, you know, God no. I'm literally just getting back to work and yeah no, not just yet.
Is it weird to call yourself a mum?
Yeah it is. I guess I won't really understand that until she starts saying it.
We read a story that said Marvin would like to do a chat show with you. Would you be up for that?
A chat show? Yeah I would be up for that. That would be fun.
I wouldn't want to do a reality show wit him, not now we have the baby but a chat show with him would be fun.
You could be like Richard and Judy but younger and cooler...
I'm glad you said that last bit. It would be fun, who better to work with than him?
What are you looking forward to now you're back at work?
I think just getting back to normal. You sort of live under a rock for the first month definitely so just being normal Rochelle again as well as mummy.
The Saturdays' new single,
Gentleman
, is out now.
WATCH: MILA KUNIS TALKS TO US ABOUT OZ THE GREAT AND POEWRFUL
LEWIS HAMILTON AND NICOLE SCHERZINGER HAS SPLIT UP?
SKINS: TOP 5 MOMENTS SO FAR