Marathon week is here. The last few days before I line up with 48,000 other runners on Staten Island; ready to run through the five boroughs, and experience the magic that surrounds one of the most famous marathons in the world.
With 4 days left to go, I have to trust my training, hope that my body is strong and keep mentally tough. The real race starts at Mile 20, I know my legs will get me there, then my brain will have to take over.
Week 10 and 11 Training Workouts
Monday
- 30 min run and Barrecore Class
Barrecore have opened a new studio in Mayfair offering 30min lunchtime express classes. These intense sessions have you working up a sweat, and your muscles quivering, all with time to shower and grab some lunch before heading back to the office.
Tuesday
- 400m repeats on the treadmill
15 min warm up, 8 x 400m sprints @6.35 min mile pace, plus 10 min cool down. I had to do my sprint repeats in the middle of a treadmill interval class- slightly embarrassing! I got chatting to the guy next to me (during our 'rests') and have agreed to join the interval class when I get back from New York. Not sure what I've got myself into, there was sweat flying off those guys!
Wednesday
- Pilates
Thursday
- 6 miles @ 9.45 min pace
A gorgeous morning to enjoy a pre-work run - not looking forward to even darker mornings once winter really sets in. Getting out of bed in the pitch black is not as enticing as a glorious sunrise.
Friday
- Rest
Saturday
- 10 Miles - last long run
Tested out my
marathon outfit
- including some snazzy compression socks, and my new favourite, the Pacesetter Skirt from Lululemon- running skirts aren't for everyone, but I'm a huge fan.
Sunday
- Rest
Monday
- Sports Massage and 45min easy run
Having regular
sports' massages
has made a huge difference to my body during this training cycle. Whilst I would love to have had weekly sessions of ITB pummelling, the 5 sessions that I have had have loosened my glutes, eased knots in my IT band and helped
prevent injury of my knee
(coupled with more crosstraining, strength training and stretching!) Look at it as a preventative measure rather than a cure.
Tuesday
- Accidental Rest (happens to the best of us.)
And planned for the rest of the week...
Wednesday
- 1000m repeats on the treadmill
The longest, and last, speedwork session before the big day.
Thursday
- 45 Min easy run
Friday
- Rest/Marathon Expo
Saturday
-3-4 mile run around NYC!
Sunday
- MARATHON DAY!
Total Mileage:
70 Miles (over the 2 weeks!)
See you on the other side of the finish line!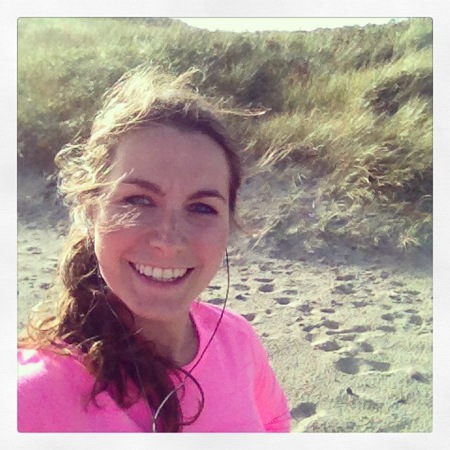 Charlotte is running the New York Marathon with 2.09 events 209events.comYou can also follow her progress on therunnerbeans.blogspot.com, and Twitter @charliedwatson
HOW TO TRAIN FOR THE NEW YORK MARATHON IN 10 WEEKS
RUNNING, STRETCHING & DRINKING IN BATTERSEA PARK
MORE DIET & FITNESS NEWS