After watching
Cher
on
The Graham Norton Show
last night, alongside
Jennifer Saunders
,
Robert De Niro
and Michelle Pfeiffer, each of whom she knew
very
personally, we officially have Cher fever. Nay, we're obsessed.
You too? Ah!
Well then come indulge in our top 5 reasons to fall in love with Cher all over again...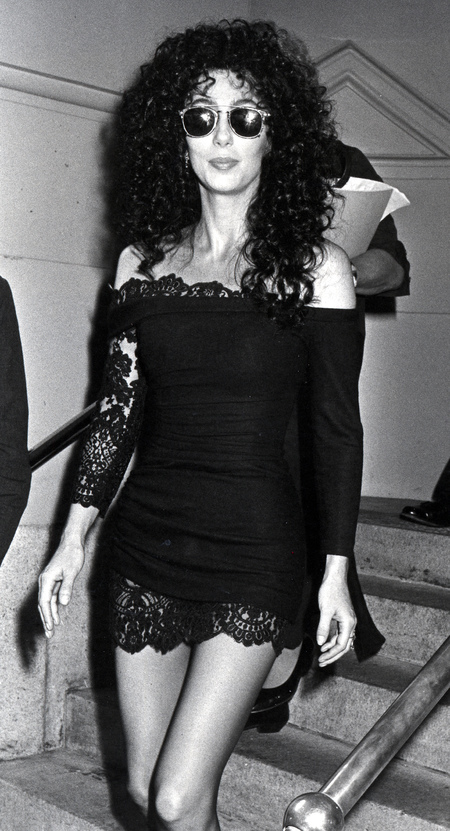 1.
Closer To The Truth
is her 26th studio album. 26th!
2.
Twitter.
Cher on Twitter might the best thing ever. Imagine if your nan morphed into a legendary pop diva yet retained her grasp on modern technology. Example:
.@MyQ105 @ladygaga @Madonna
NOT GOING 2WALK ON FKNG EGG SHELLS CONSTANTLY.I Get Asked My OPINION CONSTANTLY,I CANT SAY PERFECT THING 24/7

— Cher (@cher) October 23, 2013
3.
"You better do it now bitch 'cause you're never going to do it again!" - the 67 year-old on why Dressed To Kill is her last ever tour.
4.
Long before Beyonce's
Single Ladies
,
Miley Cyrus
or Lady Gaga,
Cher owned the leotard
.
5.
Who has more belting karoke ballads than Cher? Really?
Cher - Believe
Cher - The Shoop Shoop Song
Cher - Strong Enough
Cher and Meat Loaf - Dead Ringer for Love
Got a favourite Cher fact or moment? Share, share Cher!
CHER ON MADONNA: "SHE'S A BITCH"
QUESTION: WHO WAS YOUR VERY FIRST STYLE ICON?
MORE CELEBRITY NEWS...