With only 10 weeks to train for a marathon, you have to be clever, efficient and hardworking. It's important to get the mileage in whilst ensuring you don't get injured. Be nice to your legs and they will be nice to you. For me, this means as well as running 3 - 4 days a week, I am taking Pilates classes, cross-training and doing weights. Yikes. Even writing it down sounds hard.
Combining running with a 'flexi' workout (yoga, Pilates, bikram) improves the strength and flexibility of your muscles, particularly your core, hamstrings, quads and hip flexors, this helps keep you injury free and increases your running efficiency.
Not enough runners do weights, especially women. I'm not saying lift heavy, and I'm not saying lift often, I'm just saying do some strength work. Weight training helps to tone and strengthen your muscles, as well as improving bone density and increases your body's physical work capacity.
Training Week 1: Workouts Accomplished:
Monday:
Barrecore
(a workout inspired by ballet moves), one of the toughest 'stretchy' workouts I've ever done!
Tuesday: 25 minute treadmill workout, combining sprints and hills with light jogging.
Wednesday: Pilates class, and Speedwork. I completed this Ladder Track Workout at the Regent's Park Track:
Ladder Track Workout
100m sprint, 100m walk
200m sprint, 200m walk
400m sprint, 400m walk
800m sprint, 400m walk
800m sprint, 400m walk
400m sprint, 400m walk
200m sprint, 200m walk
100m sprint, 100m walk
Thursday: 12 mile cycle commute to work and back, killing two birds with one stone; cross training and saving me cash on the tube.
Friday: Weights workout at
Crossfit Vauxhall
(not your average weights class).
Saturday: Pass out.
Sunday: Long run day, this week it was 13 miles. I'm aiming for a 4.30 marathon, which is an average of 10.18 min miles. It's not fast, however it is maintainable, and I managed to hit this pace exactly over the 13 miles.
I ran with my camel bak to stay hydrated, as well as taking a third of a Gu gel at 6 miles and another third at 10 miles. I didn't fuel properly for my first marathon, and think it contributed to me 'hitting the wall' at mile 20, so this year I am experimenting during training to find out what works best for me.
Total Mileage: about 20 miles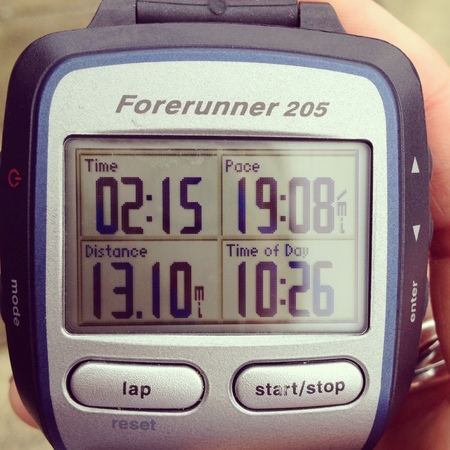 Things I've learnt this week:
• Long runs in the rain are easier to get up for when you're meeting friends to run with.
• I like espresso gu gels.
• Barrecore is really hard when you are very inflexible.
Next week in addition to my 10 mile run, I'll be tackling a spinning class, outside. Let's hope it doesn't rain.
Charlotte is running the New York Marathon with 2.09 events, they still have places to run the NYCM with them this year if you fancy joining her. 209events.comYou can also follow her progress on therunnerbeans.blogspot.com, and Twitter @charliedwatson
HOW TO TRAIN FOR THE NEW YORK MARATHON IN 10 WEEKS
RUNNING, STRETCHING & DRINKING IN BATTERSEA PARK
FLYING TRAPEZE YOUR WAY TO FUN & FLAT ABS