Sexy underwear can be your best weapon when it comes to adding a bit of spice to your love life. A perfectly fitting lingerie three-piece (bra, knickers and suspender belt) or a stunning babydoll (like this Hollywood Cami Suspender, £40, from
Ann Summers
pictured above) can give you a massive confidence boost and turn your once boring bedroom into a Parisian boudoir.
But when it comes to choosing the right kind of underwear you can find yourself lost in a minefield of weird thongs, uncomfortable bras, sheer dresses and split stockings, not to mention living in dread of crossing that line from classy to tacky. No one wants to look like Julia Roberts at the start of Pretty Woman...
If you're thinking of treating yourself to some sexy new underwear then the key is to remember you don't have to go overboard to look good. Just because something has loads of faux fur, straps or ribbons doesn't mean it's the height of bedroom sophistication.
The same goes for price. Its easy to assume that because something is expensive it must be good quality, but don't let yourself be tricked. Check the label to discover what materials have been used - silk, tulle, chiffon and cotton are ideally what you're looking for.
If you're not one for dressing up, don't underestimate the effectiveness of a simple black bra and knicker combo. If you pick the right style, size and quality that'll be enough to get your man in the mood.
If you're blessed with large breast that need extra support you don't have to compromise on style. Check out brands like
Freya
,
Bravissimo
and
Panache
for sexy and stylish lingerie for a larger bust.
If you've got small boobs that's no reason to ignore beautiful bras either. Choose a balconette bra that creates a straight line across your bust - forcing your assets to sit higher on your chest - if you want to make your breasts look bigger. On the other hand you can show off a smaller chest with gorgeously feminine lace options like Coco de Mer's Maison Close Villa Satine Lace Triangle Bra, £55,
coco-de-mer-com
(pictured below).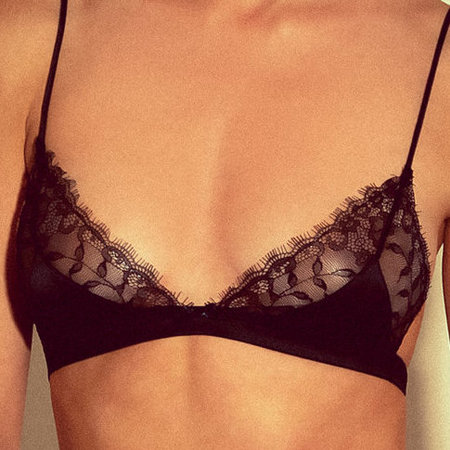 On the other hand if you want something a bit more extravagant why not try a corset, babydoll or stockings and suspenders?
Be warned, you will be far more comfortable in a fashion corset rather than a real boned corset, which are normally designed to restrict and tighten the waist. Not being able to breathe isn't sexy!
This printed Voyeur Corset, £80, from
Annsummers.com
(picture below) is the perfect option for showing off your waist and concealing any lumps and bumps in the bedroom. The print is a bit cheeky when you take a closer look too....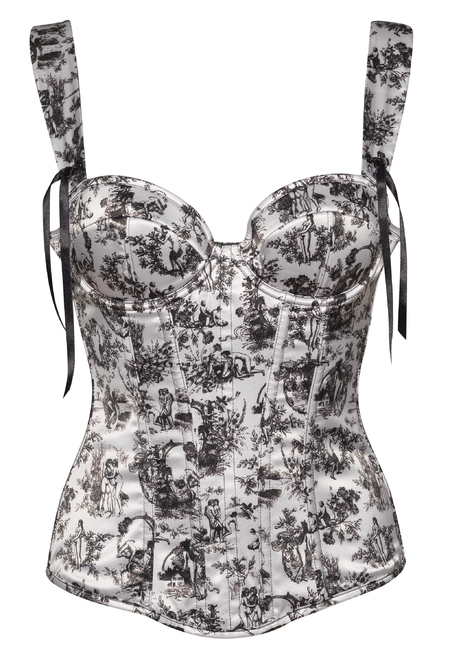 Stockings and suspenders make your legs look and feel incredibly sexy but they're not conducive to an elegant undressing. But then again, what's sexier than being slowly undressed by someone else?
Classic hold-ups, like these slightly sheer Italian beauties with a flirty back seam, are a good place to start (pictured below). Get them for £10 from
figleaves.com
.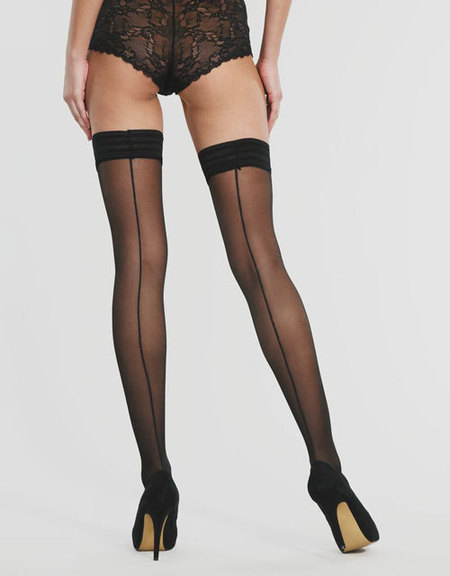 There's load of fun to be had with sexy underwear, whether you're keeping your clothes on or taking them off, and as along as you don't get too carried away with furry slippers, feather bowers and PVC (eeek!) then you'll look incredible.
As soon as you get the chance get online and treat yourself (and your man) to some beautiful lingerie, just make sure you're boss doesn't catch you on Ann Summers during work hours!
What do you think?
WHY BLIND DATES ARE DEAD
ARE YOU STRUGGLING TO REACH THE BIG 'O'?
MADE BY NIKI A/W 12 LINGERIE