With all the
surgery claims flying around Hollywood
,
Jennifer Lopez
has put the record straight.
The singer was accused of having work done by a British doctor on Twitter yesterday.
Dr Ayham Al-Ayoubi took to social media to suggest in no uncertain terms that JLo had one under the knife with a before and after style picture.
Jenny from the block was having none of that and took to Twitter to tell him just how wrong he was.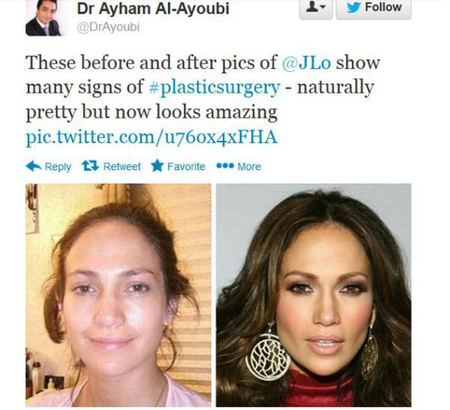 @DrAyoubi Sorry Sir, but I have never had plastic surgery of any kind. #fact

— Jennifer Lopez (@JLo) November 4, 2013
Her fans were thrilled to see her stand up for herself and it does seem a touch unfair that he chose one photo of her without a scrap of make-up and one of her done up to the nines.
Check out some real before and after surgery pics:
RENEE ZELLWEGER - WHAT'S HAPPENED TO YOUR FACE?
FOODS THAT WILL MAKE YOU LOOK YOUNGER
MORE CELEBRITY BEAUTY