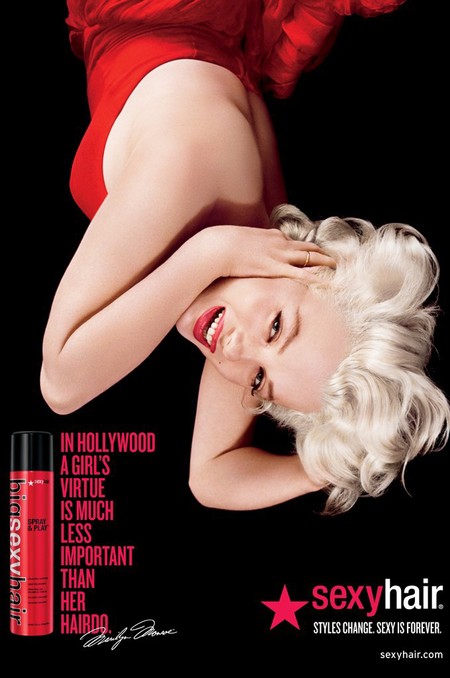 Sadly, it's not the resurrection we've all been waiting for, but Marilyn Monroe is indeed the face of Sexy Hair's new '
Styles Change. Sexy is Forever'
campaign.
In the same way Galaxy recently
brought back Audrey Hepburn
, Sexy Hair are revisiting some of Marilyn's timeless quotes, along with a model styled to look almost identical to the Hollywood legend.
From "In Hollywood a girl's virtue is much less important than her hairdo," to the more titillating, "I love to do things the censors won't pass," Marilyn's words are being used to full effect.
"We couldn't have asked for a better testimonial," says Sexy Hair boss Karl Heinz Pitsch, who's hoping Marilyn's 'flair and spirit' will help to ramp up the sex appeal of products including the Big Sexy Hair Spray & Play and Style Sexy Hair Spray Clay.
So what do you think? Does Marilyn make you want to buy a Sexy Hair hairspray?
LADY GAGA GOES MAKEUP-FREE FOR NEW ARTPOP SNAP
BEYONCÉ GETS HER HAIR STUCK IN A FAN, BUT STYLES IT OUT
DAVID BECKHAM TEASES TOPLESS FRAGRANCE ADVERT