The makeup you choose to wear to work can say a lot about you. Trying to make a good impression? Appear confident? Be taken seriously? Botched eyeliner and questionable lipstick wont't do you any favours.
Luckily, Max Factor has teamed up with
Gwyneth Paltrow
to give us all a helping hand in the business woman department.
Straight from makeup artists Pat McGrath and Mel Arter, here's what the Max Factor team suggest,
"I think in a business environment you'd like to come across as confident and fearless, and I don't think there is anything better than a statement red lip," says Mel. "I think it works perfectly."
So how do we do the boardroom red lip without going OTT?
STEP 1:
Prepare your skin with your regular moisturiser, then apply Max Factor Lasting Performance Foundation for a completely smooth and even base.
STEP 2:
Dust Max Factor Bronzing Powder in Golden across your cheekbones, and blend using a Max Factor powder brush in circular motions. The aim is to create a 'just been on a weekend break' glow.
STEP 3:
Dab Max Factor Masterpiece Colour Precision Eye Shadow in Pearl Beige across the eyelid and just underneath your lower lash line. Using your fingertip, blend gently outwards to create a 'halo' effect around the eye.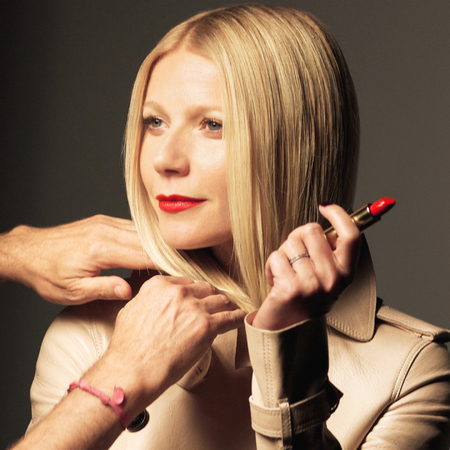 STEP 4:
Using a Max Factor eye shadow brush apply Max Factor Earth Spirits Eye Shadow in Burnt Bark into the eyelid crease and 'wing out' towards the outer corner using small circular motions to bond the powder and cream eyeshadows.
STEP 5:
Add Max Factor Earth Spirits Eye Shadow in Inca Bronze towards inner corner, and blend using the same technique as with the Burnt Bark eye shadow.
STEP 6:
Then, as finishing touch, sweep Max Factor Earth Spirits Eyeshadow in Pale Pebble across outer brow bone, in between lid crease and brow end, to contrast against the darker shadows and to create a sculpted effect.
STEP 7:
Define and separate your lashes with volumising coats of Max Factor Masterpiece Max Mascara in Black.
STEP 8:
Using a Max Factor lip brush, precision-paint the outer contours of your lips with Max Factor Colour Elixir Lipstick in Ruby Tuesday, the most show-stopping of reds. Once you've created your outline, fill using plenty of product.
So what do you think? Will you be working the pared down eye and bold red lip look at work?
SPRING MAKEUP: MIRANDA KERR'S ROSY PINK LIPS
LYDIA BRIGHT REVEALS AWESOME MAC MAKEUP KIT
CELEB HAIR: KIM KARDASHIAN'S SIDE FRINGE STYLE