Kim Kardashian
has revealed the beauty bag must-haves that keep her looking flawless and fabulous.
Naturally her latest fragrance GLAM ranks pretty high but we'd probably be a little bias to our self-named perfume too.
Among other beauty buys, she lists affordable faves like Moroccan Oil, Dove Body Scrub and Smashbox bronzer.
Check out Kim's full Top 10 picks below…
1. "My new fragrance GLAM! It's a little bit more electric than my other scents. I'd say it is the most energetic. We made it a brighter pink because I wanted it to be a little loud, it's the pop of colour in my fragrances.
2. Sally Hansen Great Legs - it makes your legs look flawless.
3. I love Dove Body Scrub, it's great for prepping the skin.
4. I use a Tinted Moisturiser by Laura Mercier, it's great for getting flawless finish.
5. Caress Shower Gel - it has burnt brown sugar in it to help exfoliate. It literally smells so good you want to eat it!
6. PerfectSkin - a simple three step skincare regime with a cleanser, toner and repair and protect which I do every day.
7. Moroccan Oil - it really helps to smooth my hair and makes it so soft.
8. My favourite bronzer is by Smashbox called Bronze Lights, it is a great matte bronzer that doesn't have a shimmer in it which I think is important as shimmer can sometimes make you look oily.
9. I love wearing lots of mascara and use Lancome Hypnose Doll Lashes Mascara to create really big lashes.
10. My most essential products are Neutrogena Make-up Remover Cleansing wipes. I need a makeup wipe at all times, that's the only way I take my makeup off."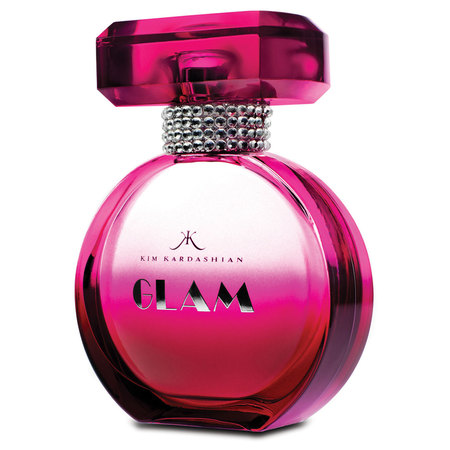 GLAM by Kim Kardashian costs £22.95 for 30ml and is available now.
So, do you use any of these products? Leave a comment below to
be in with a chance of winning a £100 goodie bag
LITTLE MIX MAKE-UP ARTIST SHARES THEIR BEAUTY BAG ESSENTIALS
EASY HAIR UPDOS WITH TONI&GUY FASHION FIX
BEAUTY BAG: CHANEL LAUNCHES NEW SPRING COLLECTION