While new Disney creations often still pique the interest of my fairy-loving inner child, the latest inhabitant of the World of Dreams caught my eye for a whole host of other reasons. Work-related would you believe!
Yep, Tinkerbell's new bestie Periwinkle is the first of a new breed, after having her created by Victoria and David Beckham's own stylist Ken Paves.
The carer of Hollywood's hottest locks (as well as the Beckhams Ken's clients include Eva Longoria, Jennifer Lopez, Megan Fox, Fergie and Jessica Simpson), Ken has taken the star of Disney's new flick
Tinkerbell and The Secret of the Wings
under his perfectly groomed wing, blessing the animated character with a hairdo worthy of the Fashion Week Frow.
So why'd he get involved? What did he magic up? Ken explained all when we caught up with him in Disneyland Paris. Naturally.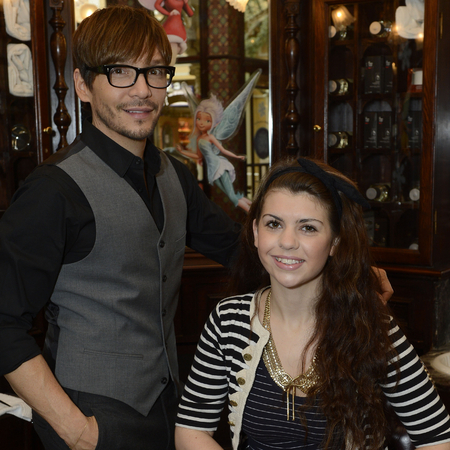 So Ken, you're well known for your red carpet and fashion world work, why did the Periwinkle project appeal?
I am a huge fan of Disney! I grew up enchanted by the magic of the characters. That excited me. That I could be a part of the Disney creative process and family. Plus, animation is an area that I have yet to work in. I am always up for something new.
We're assuming this was your first fictional client - what was that like? Did your creative approach change at all?
It was interesting. I applied all that I know from my normal work, yet I had to take so much more into consideration. I created the style using a wig on a live model. Normally I would speak to my client throughout the process and judge her body language to see if she liked the style I was creating. This time I was in a room surrounded by 15-20 animators, producers, directors, who were all Periwinkle's voice. They had given birth to her. It was an amazing collaboration, unlike anything else I have ever done. It was truly magical.
So tell us about the 'do - what did you create?
Periwinkle is a bit rebellious and mischievous, so her hair reflects that. She has a bit of a rock and roll pixie cut! Her style is still sweet, but has a little more edge than the other fairy hairstyles.
So there you have it. Thanks to Ken and Disney, we have a sassy new rock and roll pixie on our hands!
If you fancy checking our Ken's work first hand,
Tinkerbell and The Secret of the Wings
hits cinemas nationwide in Disney Digital 3D from 14 December.
Get hold of some kids and book your tickets ASAP.
CELEB TREND: BRAIDED BUNS LIKE NICOLE SCHERZINGER AND AMANDA SEYFRIED
HOW-TO: PICK THE PERFECT PARTY FRAGRANC
E
BECKHAMS' TATTOOIST LAUNCHES FORVER INK SKINCARE RANGE