These days, being a makeup artsist who just does makeup isn't enough. Which is why
AOFM London
have included both hair styling and nail modules in their Total Pro course.
If you've just joined us, here's the story so far; Like so many, I've always dreamed of becoming a professional MUA. So
I've jumped at the chance to enrol at AOFM London
(Academy of Freelance Makeup Artists) to find out just what it takes.
After
two intensive weeks of makeup
, the Total Pro Course has now led me onto hair. Which has been every bit as raising as you might imagine!
So back to the now.
I love hair. But styling? My experience has been haphazard to say the least.
With budget cuts the industry-over however, along with ever increasing client expectations and short turn-around times on shoots, it's highly recommended that as a makeup artist, you bring at least basic quaffing skills.
Cue Day 1 of hair with
Oscar Alexander
, hair perfectionist and internationally published genius. Starting with the basics, Oscar got us sectioning hair into clean lines (stray strands be gone!) before blowdrying volume into each other's locks.
Simple yes, but proper technique really shouldn't be forsaken.
The week then progressed on to wet and dry sets with rollers, before
Jan Prezemyk
(a godfather among session stylists) took over with the fundamentals behind glamorous up dos, bridal hair and period looks.
Think you know how to tong hair? Forget it. There's a 'way' only the pros know and once you've got it down, awesomely BIG tresses and chic waves really are yours. Thanks Jan!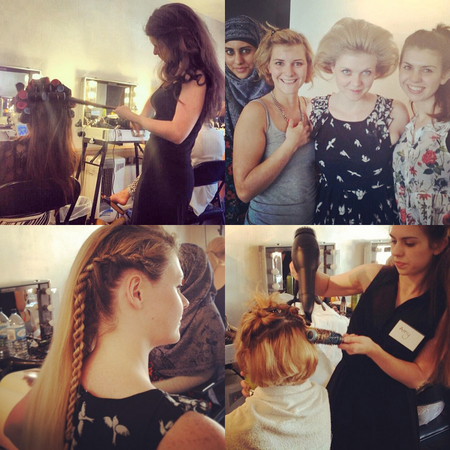 After a trip down memory lane with hair from the decades (Brigitte Bardot, Dita Von Teese and Farrah Fawcett were key looks for me),
Fabio Vivian
took over for all things fashion and catwalk.
Fresh from the
Chanel show at Paris Couture Week
, Fabio had us working in teams to recreate that on-the-clock backstage feeling (ever backcombed as a trio?), before helping us get more experimental to round off the week.
So can I do hair now? I actually can, yes!
Though I probably won't be winning any hairdresser of the year awards, I can certainly get your hair looking ship-shape and doing exactly what we want it to. Kate Middleton waves anyone? Victory rolls? Rope braid? Ah such fun...
Next up is Nail Week and Airbrushing, so keep an eye out for updates!
For more information on the AOFM Total Pro course plus other training programmes offered by the academy, hop over to www.aofmakeup.com.
10 FASHION DESIGNERS WHO CHANGED THE WORLD
SUMMER'S BEST FASHION AND BEAUTY COLLABORATIONS
TOP 5 SKIN HEALING HOLIDAY DESTINATIONS