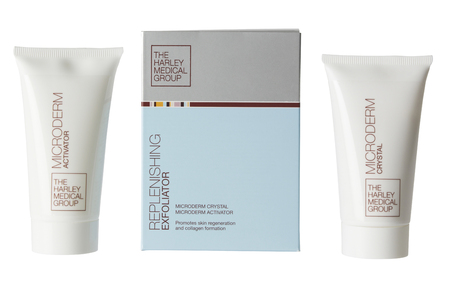 We know, we know - as soon as someone drops The Harley Medical Group into skincare conversation, it all gets a bit 'would/wouldn't you'.
But relax, we're not talking surgery here, just a deep cleansing facial with some medical based know-how.
So what is it? A combination of medical microdermabrasion (not as scary as it sounds, they use crystals) and a gentle fruit acid peel to throughly clean your skin and boost radiance, while helping to minimise your pores, blemishes and fine lines,
Starting off with a basic cleanse to remove your make-up after the personalised skin analysis, a prepping solution is then daubed over your face ready for the microdermabrasion. We'll warn you now, it does smell a tad overwhelming, but there really is only a brief few seconds were inhaling is a little tricky.
Then comes the medical microdermabrasion. Using a little vacuum the shape of a chunky felt tip pen - there's not a needle in sight - teeny tiny crystal bits are swept over your skin to lift off dead skin cells, which are then sucked away pronto. Though it feels a little weird, there's no pain. Just a cold tingle.
Once you're all exfoliated, it's time for the Fast Action Skin Peel. Smoothed over your face, the peel is left to do its smoothing stuff, before being rinsed off and followed with a cooling cold compress. Yes, having soaking wet gauze covering your entire face is a little odd at first, but it feels rather refreshing.
Now you're ready for some moisturiser and the 'ooh I can't stop touching it' feeling of really smooth and soft skin! You'll also be given a complimentary Replenishing Exfoliator from the Harley Medical Group skincare range, to top up your glow between treatments.
Perfect if you have dull, oily or acne prone skin in need of a deep clean, or just for a radiance boost ahead of party season, the 50 Shades of Glow package is available now, £150. Visit
HarleyMedical.co.uk
for more info or to book.
X FACTOR'S JAMES ARTHUR HITS THE BROW BAR
MIRANDA KERR CHANNELS 1920S GLAMOUR
KEIRA KNIGHTLEY PERFECTS THE PINK POUT